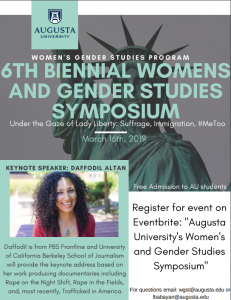 The Women's Gender Studies Symposium will take place March 16, from 9 a.m. to 4 p.m. The symposium will feature panels, workshops and a roundtable discussion.
Events will be held in different areas around the Summerville campus, including the Jaguar Student Activities Center's (JSAC) Ballroom and Breezeway and classrooms in Allgood Hall.
With the theme "Under the Gaze of Lady Liberty: Suffrage, Immigration, #metoo," the symposium offers a unique collaborative environment for scholars, artists, community organizers and graduate and undergraduate students and activists.
The keynote speaker for the event will be Daffodil Altan. She will speak at noon, and there will be two screenings of her documentary, Rape on the Night Shift. A full schedule of events is available for those interested in attending.
The event is open to the public and free for AU students. Other participants can register and buy tickets online. During the event, the JSAC Breezeway will have different community organizations tabling.
For more information about the event, please contact Liana Babayan.