AUGUSTA, Ga. – More than 3 million Americans live with atrial fibrillation, a serious heart rhythm disorder that makes them five times more likely to have a stroke. But doctors at Georgia Regents Medical Center can reduce this risk by using an innovative nonsurgical procedure called the LARIAT Suture Delivery Device to lasso and tie off a pouch-like piece of the heart, blocking stroke-causing blood clots from forming there.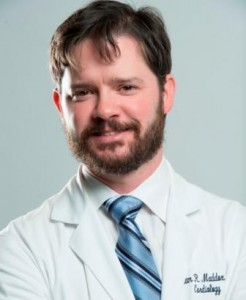 "This pouch-like piece attached to the outside of the heart is the left atrial appendage. It's about the size of the thumb and is the most common location where stroke-causing clots form in AFib patients," said Dr. William Maddox, a cardiac electrophysiologist at the hospital and an Assistant Professor of Medicine at Georgia Regents University's Medical College of Georgia. "When a patient has atrial fibrillation, the electrical impulses that control the heartbeat are erratic. These fast, chaotic impulses don't give the atria time to contract and effectively squeeze blood out of the left atrium and left atrial appendage."
Because the appendage looks and functions much like a small pouch, blood collects there, where it's more likely to form clots. If a blood clot breaks free, it can move into and plug a smaller vessel in the brain causing a stroke.
"Research has shown that close to 90 percent of stroke-causing clots come from the left atrial appendage, so, if we can take away this danger, then we can decrease a patient's stroke risk," said Maddox.
Patients with atrial fibrillation generally are prescribed blood thinners to prevent clots. But not all patients can tolerate these anticoagulants, which can cause severe bleeding. For these patients, the LARIAT procedure is a more viable option.
Unlike open heart surgery, this procedure is minimally invasive – completed through small punctures in the skin. With the patient under general anesthesia, Maddox guides two catheters into the patient's heart to seal the left atrial appendage with a pre-tied suture loop that looks like a miniature lasso. Once in place, he pulls back on the LARIAT device to tighten the knot on the tiny string and close off the appendage. Starved of blood, the appendage shrivels into scar tissue.
Only the left atrial appendage is tied off, so the procedure doesn't affect blood flow to any other part of the heart. The benefits for patients include a shorter procedure and recovery time, less pain, and a low risk of complications.
"It's just an overnight stay and mild soreness in the chest area with a total recovery in a month for most patients," said Maddox. "This is truly a simple, one-time solution to a very dangerous health issue."