As a child growing up in Russia, Dr. Larisa Gavrilova-Jordan never questioned the abilities of women to improve this world.
Each day, she saw the tremendous inner strength of her own mother, Zoya, and she knew anything was possible.
"My mom was my champion in life," said Gavrilova-Jordan, the director of the In-Vitro Fertilization Service and the Fertility Preservation Program at Augusta University. "She was a professional woman who became a widow at 34. She never remarried and dedicated her life to her profession and motherhood, raising my brother and I alone. The strengths and dedication that I've gathered in my life come from my mom."
Her mother was a pillar of strength, Gavrilova-Jordan said.
"My mother never complained, but rather tackled the challenges in the most optimistic way," Gavrilova-Jordan said. "She became the CEO of a company leading 3,000 people, at that time, in Soviet Russia. She worked very hard and, yet, she showed the same dedication and commitment to raising me and my brother."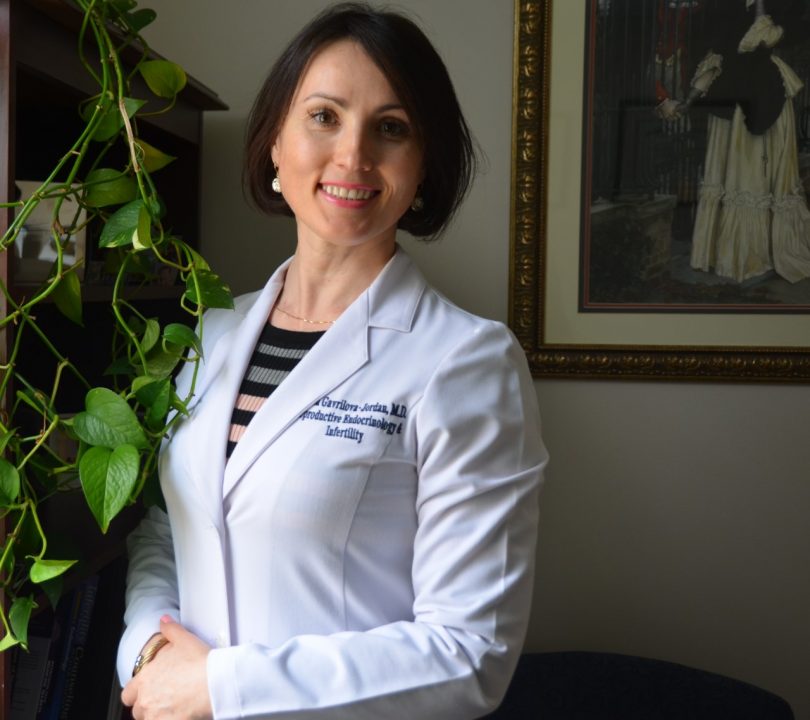 It's been 13 years since her mother passed away, but Gavrilova-Jordan honors her mother's legacy through her own roles as a physician, a wife and a mother.
"I learned from her how to balance my personal and professional life," Gavrilova-Jordan said. "To be a successful, professional woman is not easy. We perform at work with the same expectations as our male colleagues. But when we are at home, women are expected to do more. We direct, we love, we share, we absorb pain, we give hope and happiness. To balance that with being a professional woman is not an easy task. But it's doable."
As the world celebrates International Women's Day on March 8, Gavrilova-Jordan said she vividly remembers her hometown taking the day to openly thank the women in their lives.
"March 8 was a holiday when I was growing up," Gavrilova-Jordan said. "Women of all ages, little girls to older women, would receive flowers and thank you notes, not just from family members but from their classmates and co-workers."
More than 19 years ago, Gavrilova-Jordan came to the United States after receiving her medical degree with distinction in southern Russia.
She performed her residency in obstetrics and gynecology at the Mayo Clinic and later completed a fellowship in reproductive endocrinology and infertility at Duke University Medical Center.
"I remember a moving speech by Yury Verlinsky, who was a pioneer of pre-implantation genetic diagnosis, or PGD, about the potential of technology in human reproduction," Gavrilova-Jordan said. "I was so fascinated and inspired by the blend of incredible potential of technology and medical science. As a result, I was determined to become a reproductive health specialist. In our now daily practice, we utilize many assisted reproductive technology methods that even 10 years ago seemed an unrealistic dream."
Helping give an infertile couple the gift of being parents is a joy that can never be taken for granted, Gavrilova-Jordan said.
"When I came to Augusta University in 2013, it was a great opportunity to develop a strong in-vitro fertilization program as well as new services in assisted reproduction technology," Gavrilova-Jordan said.
Patients from different parts of Georgia, from surrounding states and even several international patients have come to Augusta University seeking Gavrilova-Jordan's medical expertise.
"Just today, I saw a patient who was trying to get pregnant, but she found out she had cancer," Gavrilova-Jordan said. "Now, we are planning on freezing her embryos so, once she recovers from her cancer, she will have a chance to have children."
Since its inception in 2014, Augusta University's oncofertility program has not only helped many men and women of reproductive age preserve their fertility while undergoing cancer treatment, but they have also celebrated the birth of several children to cancer survivors through the success of the program, Gavrilova-Jordan said.
"Without this program, many young patients with cancer would not have a chance to have biological children after cancer treatment and, for most people, that's a major hardship after cancer," she said.
Many people don't realize that one out of every six couples in the United States deals with infertility. Augusta University has seen a significant increase in the number and medical complexity of infertile men and women seeking help, Gavrilova-Jordan said.
For example, Shelly Bayne and her husband, Ryan, had struggled to become pregnant for two years before learning that she suffered from endometriosis, a disorder that affects 1 in 10 women in the United States.
This condition causes the tissue lining in the uterus to grow out and envelop the ovaries, fallopian tubes and other pelvic organs. Shelly Bayne's disease was stage IV, the most severe, and resulted in the loss of her own eggs.
That's when the Baynes turned to Gavrilova-Jordan at Augusta University for help with in-vitro fertilization using donor eggs.
"Dr. Gavrilova-Jordan was just very upbeat and very happy," Shelly Bayne told Jagwire in 2017. "She never made me feel like I was broken. I just had so much hope with her. I knew this was the person who was going to give me our baby."
On Nov. 3, 2016, the couple's first child, Swayze Rose, was born.
"Swayze Rose was our first baby born from frozen donor eggs in our AU program," Gavrilova-Jordan said, smiling. "This patient now has three children through this program, so developing successful services for a variety of patients to fulfill their dreams of becoming parents is a paramount of professional satisfaction for me."
Gavrilova-Jordan says she wouldn't have it any other way.
"Helping couples have the family they dream about is what I think about over the weekend, when I'm planning on coming in on Monday," she said, laughing. "That's what I think about when I'm on vacation too. In my mind, I'm always asking, 'What can I do better for these patients who want children?'"
Gavrilova-Jordan's recent notification on being promoted to professor is a testament that Augusta University provides many opportunities for women to succeed professionally.
"My mother's example gave me strength and determination to achieve my personal and professional goals, "Gavrilova-Jordan said. "I named my daughter after her. My mom will always be my champion. And, on International Women's Day, I think about the past, present and future and wish all women to have personal and professional success."