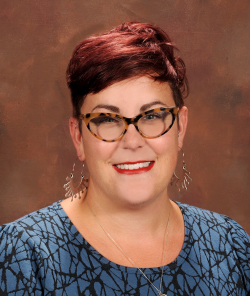 Dean Lucy N. Marion of the Augusta University College of Nursing has announced the appointment of Jessica Dillard-Wright as director of diversity and inclusion for the college.
In this role, Dillard-Wright designs and leads the related CON strategic plan, focusing on the needs of diverse groups within the community, advocating for the needs of diverse groups of students and pursuing a diverse workforce. Her efforts will be in alignment with and supportive of the vision and mission of the Augusta University's Office of Diversity and Inclusion. She will collaborate with members of CON units and the chair and members of the CON Diversity and Inclusion Advisory Committee.
"I believe strongly that we as nurses and educators have work to do to ensure equity in our college, in our communities, and in health care across a wide variety of intersecting identities," Dillard-Wright said. "Far from static, the efforts we make toward a diverse and inclusive environment are dynamic and require constant reflection and revision as we work to build equity."
One of Dillard-Wright's first aims is to foster visibility of designated Safe Zones in the CON. She envisions continuing education, engaging student leaders, including LGBTQ-sensitive content in nursing courses, and readily identifying Safe Zone faculty and staff in email signatures and syllabi.
"I view my role as that of facilitator," Dillard-Wright said. "To that end, I invite faculty and associate input and feedback on the issues important for working together to build and maintain a safe, diverse and inclusive CON."
Through her role as director of diversity and inclusion, Dillard-Wright also plans to address the role of nurses in eliminating health disparities precipitated by income, race, and geographic location. She is especially passionate about solving the maternal morbidity and mortality crisis, which disproportionately impacts African-American and uninsured women in our country.
Dillard-Wright is currently an instructor at the CON. She served in various staff nurse roles from 2010 to 2016 at Augusta University Medical Center in trauma and emergency services and is a certified nurse midwife. In addition to her faculty role in the CON, Dillard-Wright also maintains affiliate faculty status with the Women and Gender Studies program at Pamplin College. She also serves on the American College of Nurse-Midwives Ethics Committee.
Dillard-Wright is currently pursuing a PhD in nursing at Augusta University and recently received the Excellence in Research Award from The Graduate School. She was nominated for the Augusta University Office of Teaching Excellence value of Inclusivity in May 2018. She also received the Spirit of Nursing award for the PTN department at this year's CSRA Nursing Showcase.
Dillard-Wright holds an MSN in community-based nurse-midwifery and clinical nurse leader, from Frontier Nursing University and the Medical College of Georgia, respectively. She also received an MA in women's history from Sarah Lawrence College and a BS in science, technology and culture from Georgia Institute of Technology.