Dev Shah, a native of Milton, Georgia, and a Class of 2021 graduate of Cambridge High School, is going to medical school. But that's par for the course in his family.
Dev has been accepted to the BS-MD Program in the Medical College of Georgia at Augusta University, one of two pathways in the Professional Scholars Program. Students accepted into the BS-MD Program earn both their Bachelor of Science and Doctor of Medicine degrees in just seven years, although a medical education usually takes eight.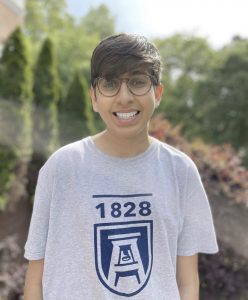 Students accepted into the program have an automatic seat in the Medical College of Georgia — pending they maintain their GPA and meet other requirements — and they participate in special opportunities for volunteering, clinical exposure and research.
Why medicine?
Originally, Dev never considered being a physician. He wanted a career in cyber or engineering. But then his older sister, Krishna Shah, now a third-year medical student at the Medical College of Georgia and an alum of the BS-MD Program herself, inspired him to pursue medicine.
"When Krishna started medical school, it inspired me to shadow a physician," said Dev. "While shadowing, I really enjoyed how the doctor created a close relationship with patients. I knew this was a level of connection and satisfaction I wouldn't get from engineering."
Incredibly, Krishna and Dev aren't the only Shah siblings pursuing medicine: their older sister Monali is, too.
"Monali graduated college in 2017 and started her career in biomedical engineering, but wasn't satisfied. Her job was to create medical devices, but she also did a lot of patient care while she was working with a surgeon. That inspired her to start medical school, and she's currently studying at Philadelphia College of Osteopathic Medicine," said Krishna.
Interestingly, there are no physicians in the Shah family. After emigrating from Gujarat, India, in 1990, the Shahs' father began work as a gas station attendant, and their mother became a librarian at an elementary school in Milton.
"Our parents ask us all the time why we all chose medicine," said Krishna. "They always want to hang out with us, but medical school – or for Dev, preparing for medical school – keep us all pretty busy."
Why AU?
Dev chose Augusta University because he knew from his sister's experience that he could build strong relationships with peers and faculty. Growing up in a household of 15 family members, he's used to a strong support system, and he's excited to learn in AU's smaller class sizes.
Dev is well on his way to joining the medical profession in just a few years — where his sisters will be waiting for him.
Learn more about the incoming class, #JagNation25, on the Office of Admissions Instagram.