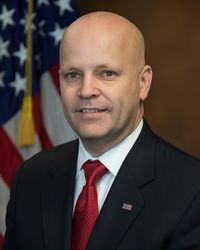 Ovie Carroll, director of the Department of Justice Cybercrime Lab, will present "Current and Emerging Trends in Digital Forensics" on Thursday, May 19, at 7:10 p.m. in University Hall, Room 170.
Carroll is a world-renowned expert in cybercrime investigations and forensics with more than 20 years of federal law enforcement experience.
In addition to his responsibilities as director of the DOJ Cybercrime Lab, Carroll also serves as an adjunct professor at George Washington University and as a course author and instructor with the SANS Institute. Previously, he served as a special agent for the Air Force Office of Special Investigations (AFOSI) and as chief of the Washington Field Office Computer Investigations and Operations Branch.
This event, hosted by the Greater Augusta Information Systems Security Association and the James M. Hull College of Business, is free and open to the public.
Attendees must register here to reserve a seat.
Pizza will be served prior to the event, beginning at 6:30 p.m.
For more information, contact Joanne Sexton, director of the Cyber Institute at Augusta University at jsexton1@augusta.edu.