Carol Lefebvre, DDS, has enjoyed her life experiences.
From her time as a Michigan State Spartan to a Michigan Wolverine to finally her time at Augusta University, all those experiences have led her to this moment.
The Dental College of Georgia dean is planning the next steps in her life as she prepares to retire. It's a decision that she has been considering, and with the end of 2022 in sight, the timing felt right.
"My sister Diane is retiring the same day, and we couldn't be happier for one another," Lefebvre said.
Preparing for the career ahead
Born and raised in Michigan, Lefebvre knew she wanted to attend Michigan State University since middle school. She is a first-generation college student and along with her sister, stayed focused on getting an education and worked diligently to make sure she took advantage of every opportunity presented to her.
"After I finished my freshman year, I served as a biology teaching assistant for the following three years and my sister did the same. It gave us an opportunity to go to a great school and receive financial support," she said.
"The program was very well connected to health professions programs throughout the state and at the time I was pre-med along with my sister. Ultimately, she went to medical school, and I went to dental school at Michigan. I'm very proud of my alma maters and the education that I received from two state colleges."
During her senior year at Michigan, Lefebvre accepted a position as a staff dentist at a Veterans Affairs hospital. Before graduation, she received a call from the chair of prosthodontics, who asked her if she would consider teaching, something that she said, "was never on my radar."
But the idea intrigued her, and she taught for a year after dental school. By her own admission, she said she still had a lot to learn, but any training or work experience that presented itself, she met the challenge head on.
"In dental school, you just can't cover everything. So, I went back and completed my specialty training. The prosthodontic faculty at Michigan were excellent teachers and mentors and I stayed connected with them after I left the university," she said. "Then I made the decision to switch from the VA position to academia. It changed the whole course of my career."
Making the transition
Lefebvre said she would have stayed in Michigan, but a hiring freeze led her to accept a position at Northwestern University Dental School in Chicago. Coincidentally, her sister was also completing her anesthesiology residency at Northwestern.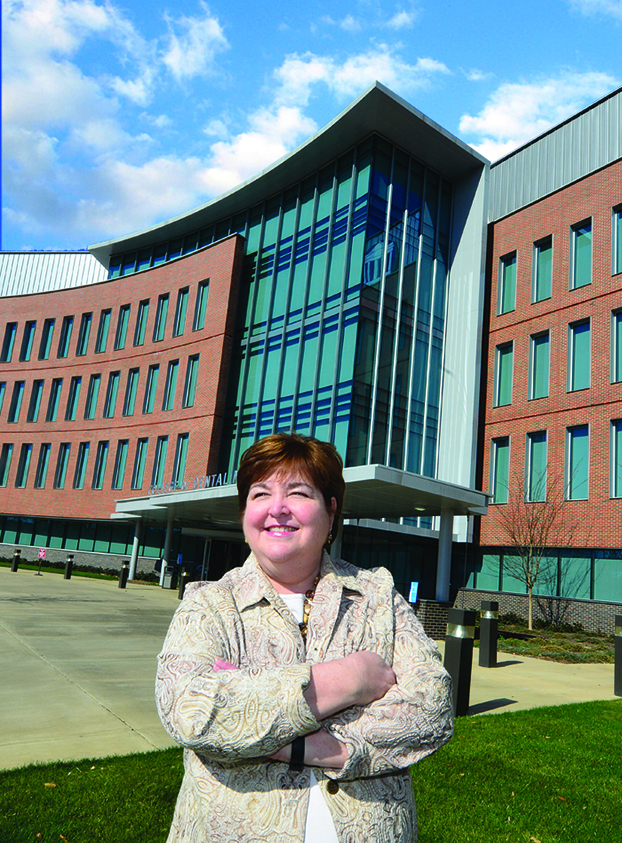 Soon after, Diane moved to Atlanta to complete a fellowship at Emory University. Their parents retired and moved to Blue Ridge, Georgia. So, Lefebvre and her husband, Kevin Corbin, followed with their move to Augusta in 1989 where she joined the DCG as an assistant professor in the Department of Prosthodontics and he joined the pharmacy at AU Health.
The move to Augusta was a bit of a culture shock after living in downtown Chicago. After dealing with parking three blocks from their living quarters to weather- and traffic-related hassles, coming to Augusta and being able to pull right up to the grocery store was an eye-opener.
"It was such an easy way of life. Living in a big city is a lot of fun, but it's a lot of work. Everything is just a hassle in the city," she said. "When we moved here, you could cross the whole city in 20 minutes. Life was just at a much better pace."
When she arrived at DCG, she was on the tenure track and knew she had to hit the ground running. Lefebvre connected with researchers shortly after being recruited by Art Rahn, DDS, chair of prosthodontics. He paired her with George Schuster, PhD/DDS, who later became the chair of oral biology and associate dean for research. She found the working environment "stimulating," and was able to connect with her students because her class size hovered around 50 per class.
The more opportunities arose, the more experiences Lefebvre got to have. She calls Augusta University "the land of opportunity" because experiences beyond teaching opened doors for her and allowed her to grow as an educator and an administrator.
"I always tell students that it's really important to have goals because you have to keep your sights set on those goals to move forward. However, if you're solely focused on those goals, you don't see things that might come in from the side," Lefebvre said. That mindset led her to an opportunity to work for The Journal of Prosthetic Dentistry, the oldest journal in prosthodontics.
"Because I needed to publish, I volunteered to be a reviewer. It was one thing to write the papers, but it's another to review them. I think when you serve in that capacity, you become a better writer," she said.
Over time, she became a member of the Editorial Review Board, then an assistant editor. Eventually, Lefebvre became the first female editor of the journal and served for nine years.
The writing skills she honed served her well as she's been awarded $15.9 million in extramural funding as a principal investigator during her time at AU.
"That was one of those things I never saw coming, but it really changed my career path. And I'm still involved with the journal today. And that's one of the things I'll be doing in retirement," she said.
She was selected as a fellow in the Hedwig van Ameringen Executive Leadership in Academic Medicine program, which is a year-long, part-time fellowship for women faculty in colleges of medicine, dentistry, public health and pharmacy. The program, which Lefebvre said was "transformational" for her, is dedicated to developing the professional and personal skills required to lead and manage in today's complex health care environment, with special attention to the unique challenges facing women in leadership positions.
"It helped me to prepare for the administrative roles I would have."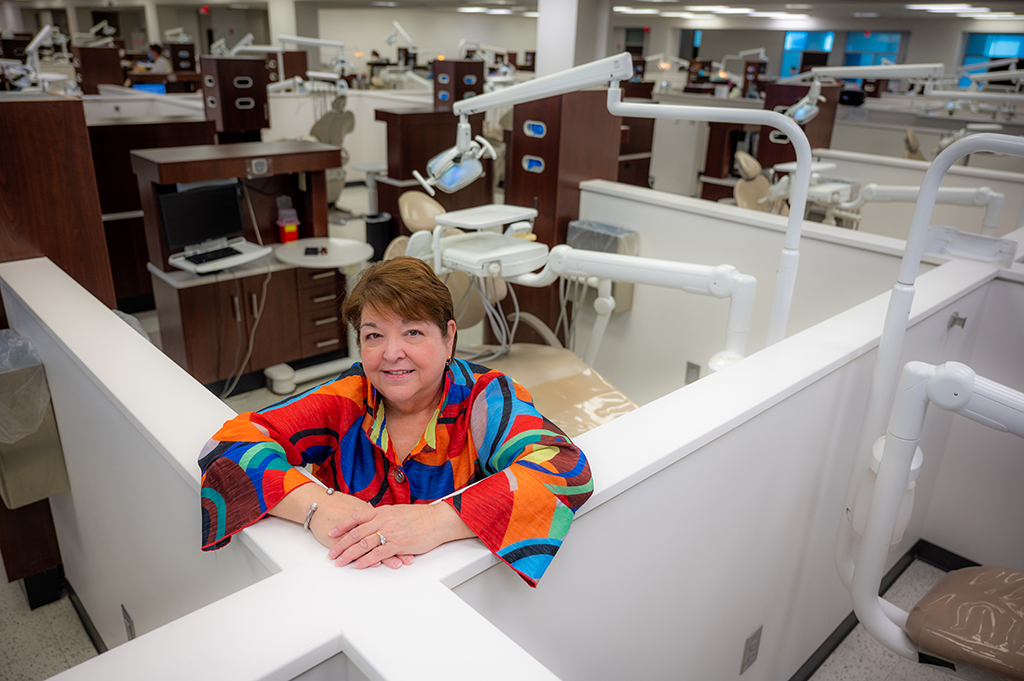 Leaving a legacy
Not many get to leave a job with a monument in place, but one of the things Lefebvre will be remembered for is the building in which the DCG resides.
When Lefebvre was appointed associate dean for strategic initiatives and faculty affairs in 2006, she began a six-year period of planning and designing the new DCG facility from program planning to schematic design to construction.
Every decision was evaluated, from how much space each department was allocated, where clinics would be located, to the equipment and furniture selected. Those decisions also affected morale. For example, every faculty office has a window, which was not the case in the old building. Lefebvre navigated through it all to help create a facility everyone would be proud to work and learn in. The new dental school allowed for an increased in class size from 72 to 96 and the number of residents to increase from 55 to 69. Twenty-three faculty were hired to maintain the faculty to student ratios.
"Dean Connie Drisko said in the first meeting with the architects, 'Don't build me a box.' She wanted a building that uses a lot of natural light, and I think we accomplished that," Lefebvre said. "I also chaired the Patient- and Family-Centered Care Committee to receive patient feedback about the new school, and they were adamant that they wanted it to be a very welcoming place. One of the things that they suggested was artwork, and Dean Drisko was a big lover of art. So that was an easy marriage. All in all, I think we accomplished the goal of making it a welcoming and comfortable place for employees, students, residents and patients."
Some of Lefebvre's other accomplishments include implementing a new curriculum in 2018 to better integrate the basic and clinical sciences as well as prepare students for the Integrated National Dental Board Exam, having a successful Commission on Dental Accreditation site visit in 2019, managing the COVID-19 pandemic and being the first college to return students and employees to campus, launching the Digital Dentistry Initiative and establishing the DCG Center for Excellence in Research, Scholarship, and Innovation.
As she prepares for the next part of her life — that she hopes will include more traveling with her husband and getting back to her love of quilting — Lefebvre is able to reflect fondly on the success DCG has had in producing competent dentists who become leaders in their communities.
Over her 33 years at Augusta University, she has taught and interacted with a lot of students, and says it is gratifying to see the "light bulb go off" and everything click. However, it is equally gratifying to connect with alumni after graduation. She says they are very appreciative of their education and the faculty they had the opportunity to learn from.
"I could not be more proud of them and the faculty and staff that helped shaped them into the outstanding professionals and community leaders they are today."