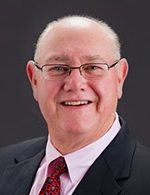 The Commerce Department's National Institute of Standards and Technology has named Dr. Kevin Dellsperger, vice president and chief medical officer at AU Health System, as a Senior Examiner of the Board of Examiners for the 2016 Malcolm Baldrige National Quality Award. The Baldrige Award is the nation's highest honor for organizational innovation and performance excellence.
Appointed by the NIST Director, examiners are responsible for reviewing and evaluating applications submitted for the Baldrige Award, as well as other assessment-related tasks. The examiner board is composed of more than 350 leading experts competitively selected from industry, professional, trade, education, health care and nonprofit (including government) organizations from across the United States.
Those selected meet the highest standards of qualification and peer recognition, demonstrating competencies related to customer focus, communication, ethics, action orientation, team building and analytical skills. All members of the board must take part in a nationally ranked leadership development course based on the Baldrige Criteria for Performance Excellence and the scoring/evaluation processes for the Baldrige Award.
Dellsperger has served as a member of the Baldrige Board of Examiners since 2011 and a Senior Examiner for the past 4 years. He came to AU Health and Augusta University in 2013 to serve as vice president and chief medical officer, as well as associate dean for clinical affairs at the Medical College of Georgia at Augusta University. In his role, he leads the clinical programs and quality for the medical center.
Named after Malcolm Baldrige, the 26th Secretary of Commerce, the Baldrige Award was established by Congress in 1987. Awards may be given annually to organizations in each of six categories: manufacturing, service, small business, education, health care and nonprofit. The Award promotes innovation and excellence in organizational performance, recognizes the achievements and results of U.S. organizations, and publicizes successful performance strategies. Since the first group was recognized in 1988, 109 awards have been presented to 102 organizations (including seven repeat recipients). The 2015 winners are MidwayUSA, Columbia, Mo. (small business; won in the same category in 2009); Charter School of San Diego, San Diego, Calif. (education); Charleston Area Medical Center Health System, Charleston, W.V. (health care); and Mid-America Transplant Services, St. Louis, Mo. (nonprofit).