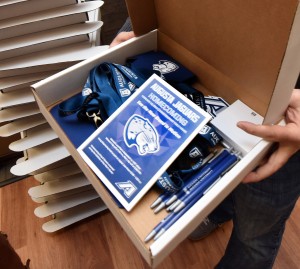 Deliveries of 1,000 Augusta University brand starter kits, which contain pens, lanyards, decals, koozies and other branded items, started at 8 a.m. this morning and will continue throughout the day.
Additionally, both JagStores are open and stocked with new Augusta University merchandise, including T-shirts, sweatshirts, polo shirts and workout wear from Nike and Under Armour.
And beginning at 11 a.m., two Swag Stops will allow faculty, staff and students the opportunity to exchange legacy branded items for new Augusta University T-shirts. Located at the JSAC on the Summerville Campus and beside the Student Center on the Health Sciences Campus, these Swag Stops will remain open until 2 p.m.
Additional Swag Stops will occur on Jan. 28 and before and during the Homecoming Game on Feb. 13. Check Jagwire for the latest information.
However you choose to snag your swag, don't forget to share your excitement at #newJagSwag.