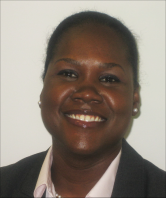 Tamika Brown, a second-year dental student at The Dental College of Georgia, is the recipient of a David E. Rogers Student Fellowship Award from the New York Academy of Medicine.
Brown will receive a $4,000 stipend to complete her research project: "The influence of loan repayment programs on career choice in community health centers." She will complete her work this summer under the guidance of her faculty mentor, Dr. Katharine Ciarrocca, assistant professor in the DCG Department of Oral Rehabilitation. Brown will have the opportunity to present her work in New York in August.
The David E. Rogers Student Fellowship Award was established to enrich the educational experiences of medical and dental students through projects that bear on medicine and dentistry as they contribute to the health of communities and address the human needs of underserved or disadvantaged patients or populations. Each year, The New York Academy of Medicine awards more than $400,000 in grants and fellowships to students, seasoned physicians, and investigators to support the advancement of health care studies.
"We are proud of Tamika's selection for this fellowship," said Dr. Carol Lefebvre, dean of the DCG. "Her research will give us a better understanding of the barriers which prevent all communities from having access to adequate dental care."