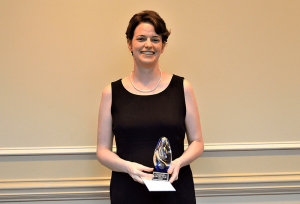 Dr. Carol Lefebvre, dean of The Dental College of Georgia, presented two graduating residents with the Connie L. Drisko Resident Award for Professionalism at two separate events last week. The award was presented for the first time in 2015 to honor former DCG dean, Dr. Connie Drisko, a well-known art lover. The award includes a blown-glass piece of art with the individual's name engraved on it as well as a monetary award of $2,000.
The first award was presented to resident Emily Hahn, DMD, MS, on June 11 at the Department of Periodontics graduation dinner. The second award was presented on June 18 to Rebecca Paquin, DMD, who is completing her residency in the Department of Oral and Maxillofacial Surgery. Residency program directors were invited to nominate a resident from their respective program, and the dean's leadership team selected the awardee from the list of nominees. This year, there was a tie between Drs. Hahn and Paquin, and the decision was made to honor each of them.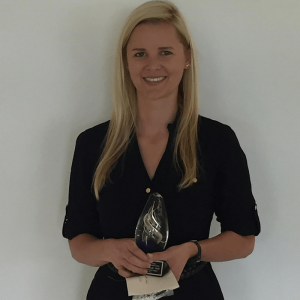 "I am tremendously proud of Drs. Hahn and Paquin for their leadership, compassionate care, academic performance, community and professional service, patient service and clinical production — all selection criteria for this award," said Lefebvre. "Both of the recipients began their careers at the DCG as dental students."
After they complete their residency programs this week, Hahn will move to New York to begin private practice. Paquin has been accepted to the Medical College of Georgia. However, she is taking a year off before heading to medical school to join the DCG faculty.