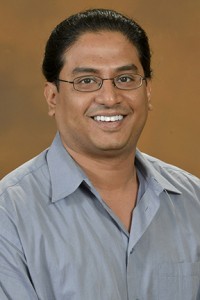 Dr. Trinanjan Datta, associate professor of Physics, has been named a University System of Georgia Scholarship of Teaching and Learning (SoTL) Fellow for 2016-2017.
Datta, a condensed matter theorist specializing in quantum and classical magnetism, was one of ten Georgia professors chosen by the USG to receive a fellowship.
The purpose of the SoTL fellowship program is to foster a community of learners throughout the University System of Georgia (USG), and to provide support to the participants for their ongoing scholarly work related to teaching and learning.
As a participating Fellow, Dr. Datta will design and implement a classroom-based research project and will also attend the USG SoTL Conference in Athens, Georgia, in April.
In 2015, Datta was awarded the 2015 Augusta University College of Science and Mathematics Outstanding Faculty Award. Datta is co-author of "Introductory Solid State Physics with MATLAB applications," an upcoming textbook from Taylor and Francis CRC Press.
His current research involves quantum spin ice compounds and the properties of frustrated quantum magnets.