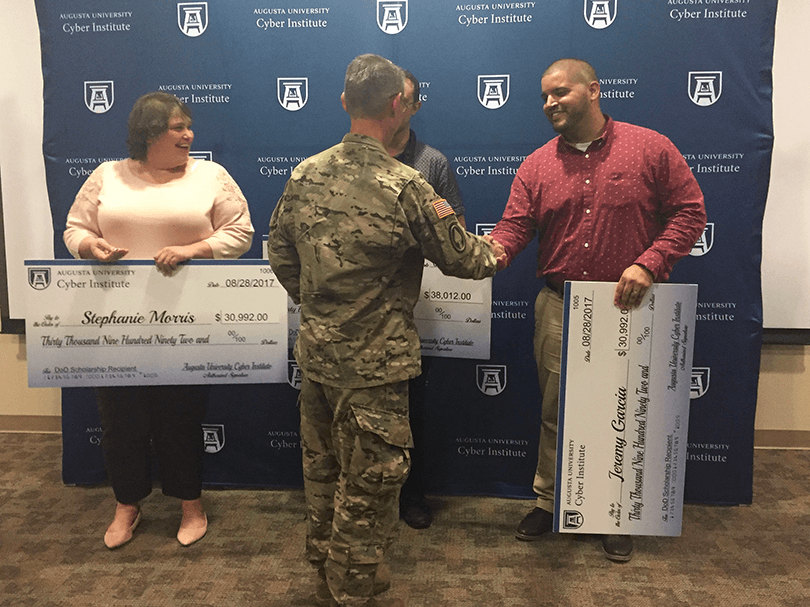 When Jeremy Garcia enrolled at Augusta University in 2014, he never thought he would achieve his career dream in only three years.
After 11 years in the National Guard and two deployments to Afghanistan, Garcia decided to put his military career on hold and pursue a different goal.
"Working for the Department of Defense has always been a dream job," he said. "Continuing [serving my country] on the civilian side is something that I wanted."
As a senior information technology major, Garcia will now have a chance to fulfill his dream. He is one of three Augusta University students who recently received a prestigious scholarship from the Department of Defense.
For every year of scholarship, recipients are required to work for the Department of Defense for one year.
"I'm honored," Garcia said. "Instead of being a frontline soldier, now I'm part of the support team that helps those out in the field."
Matt Atkinson, one of the other students who received the scholarship, shares Garcia's opinion.
"Being able to help in the background … and protect the security, the data, and essentially the lives of a lot of people on the front line would be an exceptional opportunity," he said.
Atkinson, who is getting his master's degree in information security management, is also grateful to have a job waiting on him after he graduates.
"That's always one of the biggest stresses … Now what?" he said. "Thankfully for the time being the 'now what?' for me has been answered."
Stephanie Morris, who also received the scholarship, agrees.
"It's just a huge relief," she said. "And I feel incredibly privileged that I get to work with the government doing things that are important."
Morris, a senior computer science major, attributes her and the other student's success in receiving the scholarship to the Augusta University Cyber Institute faculty and staff.
"Every person who works in the Cyber Institute was absolutely wonderful," she said. "They couldn't have been more supportive and more willing to go out of their way to make certain that we were as successful as possible."
As a result of the combined effort of the three students and the Cyber Institute faculty and staff, Augusta University was the only National Center of Academic Excellence in Cyber Defense in Georgia to receive the scholarship.
Ready to graduate and take on his dream job with the Department of Defense, Garcia said he cannot forget the Cyber Institute faculty and staff who helped him get here.
"It's them who put in all this hard work and effort" he said. "For us, the applicants, it was a matter of just putting all the pieces together and submitting the packet. I have to give them a lot of credit."