In modern society, people increasingly rely on automation in just about every aspect of our lives. Smartphones auto-update to the latest software and firmware and robots have replaced humans in building most major components of cars — cars which, in some cases, are learning to drive themselves.
But how do we go from allowing a car to update the firmware of your satellite radio to feeling safe allowing that car to drive you from downtown Augusta to Augusta University's Summerville Campus? How do we trust that the car won't end up on a sidewalk, or turn the wrong way onto a one-way street?
These questions are the focus of the innovative research of Dr. Weiming Xiang, assistant professor in the School of Computer and Cyber Sciences at Augusta University.
Xiang was recently awarded a National Science Foundation CAREER Award for his project "Enabling Trustworthy Upgrades of Machine-Learning Intensive Cyber-Physical Systems." The grant will support Xiang's five-year project in the amount of $498,985. The NSF describes these grants as "most prestigious awards in support of early-career faculty who have the potential to serve as academic role models in research and education." The winners of NSF CAREER awards pursue activities that "build a firm foundation for a lifetime of leadership in integrating education and research."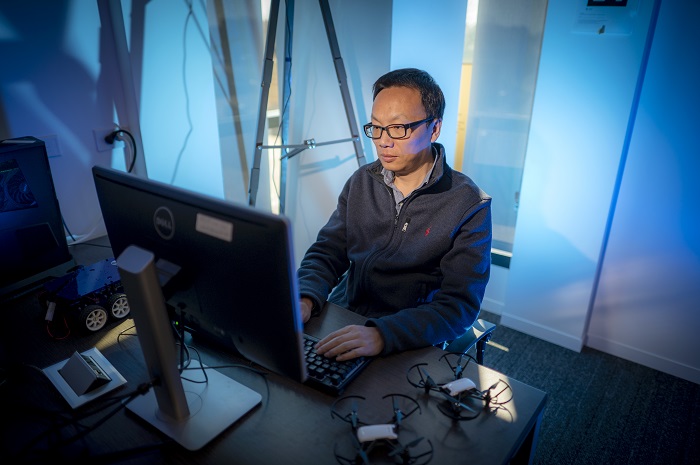 "I would like to thank Dean
Alexander Schwarzmann
and the other members of the School of Computer and Cyber Sciences," Xiang said. "They have been very supportive of my research by offering me a supportive environment that gives me a lot of freedom to do what I need to do for the research and to make this proposal a success.
"Besides the ability to perform my research, there is another part of this proposal, and that is the educational part," Xiang continued. "I would love to have more students get involved in my project, to get a better understanding of cyber physical systems and how to apply popular machine learning techniques to improve the performance for cyber physical systems. This grant and the school's support will help me achieve that."
First NSF CAREER Award recipient at AU
Xiang is the first NSF CAREER Award recipient for both an SCCS faculty member and Augusta University. Three other faculty members in the SCCS have won the award at previous posts, including Schwarzmann, the dean of the school.
These awards are extremely competitive, and according to Schwarzmann, less than one in five proposals are successful. "This very prestigious award recognizes a faculty member as a respected and active researcher who advances the scientific state of the art in an important and relevant field of study, and who can successfully integrate research and education," he said.
Over the past 18 months, faculty members in the SCCS have secured over $5 million in NSF research and education awards, in addition to Dr. Xiang's recent award.
"The NSF CAREER Award of Dr. Xiang is yet another recognition that our faculty pursue innovative research, and that we are serious about education," Schwarzmann said. "Having award-winning faculty like Dr. Xiang will help us attract strong students who wish to learn from and work alongside our faculty, and our increasing visibility will help us attract talented faculty who are serious about research and mentoring the next generation of computing professionals."
About the project
Xiang's study aims at ensuring the safety of cyber-physical systems — any system that includes a computing device and also has the ability to interact with physical reality — are safe. This could be self-driving cars, autonomous flying drones or even a toaster oven.
"Now more than ever, more machine-learning components are applied to a lot of different areas. If that machine-learning component applied to the safety critical system, maybe we will have some safety issues," Xiang said. "To ensure the safety assurance of this kind of system, we need to do some verification and design before we can allow that version to be uploaded to the system. It's a very critical procedure during the lifetime of the cyber-physical system."
An example would be seen in self-driving cars. Having a car stop at a standard stoplight is one thing, but what if the traffic light is not in the traditional spot (as is the case in some areas of downtown Augusta), or if it is horizontal instead of vertical? What if a utility company has set up a temporary barrier to guide traffic around their work? This opens the system to a possible catastrophic failure.
There is a lot that can go wrong in any given system, so over the next five years, Xiang will be analyzing data and doing trials with flying drones. Another way a system can fail and become unsafe is by adding in software updates. Software is fragile, and if a system was already safe, an upgrade to the software could make changes that mean there is no longer a guarantee of safety in the system.
"Whether it's self-driving cars or the drones in the lab, if their controllers are using the machine-learning techniques, they will have some upgrades during their lifetime, and my results may be helpful to these kind of systems remaining safe," Xiang said.
Xiang's research plan won't just end in five years. Part of the process is showing how this will be able to lead to more research down the road. Xiang has long-term plans to continue his research and trials to carry over from the lab into open environments.
"My long-term research goal is to create, deploy and validate new machine-learning technologies in the design, development and maintenance throughout the life cycles of cyber-physical systems, so that cyber-physical systems are computational intelligent and self-adaptive as well as trustworthy and reliable in open environments throughout the lifetime," Xiang said. "The overall objective of this CAREER proposal, which is a critical step toward my long-term goal, is to develop efficient verification and upgrade procedures that provide formal safety guarantees for machine-learning intensive cyber-physical systems throughout their life cycles."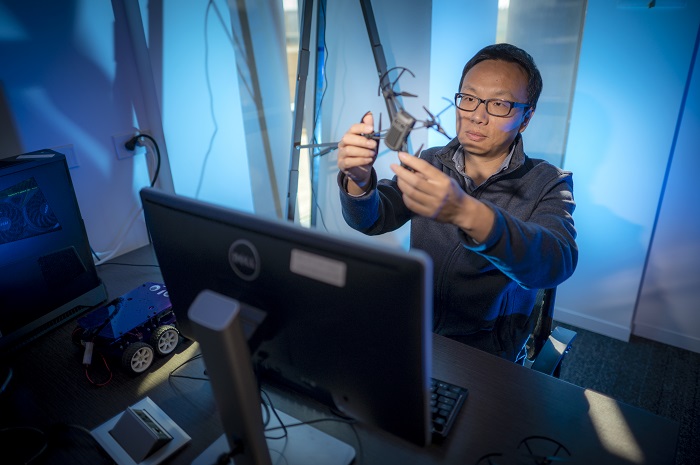 More about Dr. Xiang
Xiang, a senior member of the Institute of Electrical and Electronics Engineers, completed his PhD at Southwest Jiaotong University, where his thesis on formal methods for hybrid traffic systems was awarded the Outstanding PhD Dissertation. Xiang, who joined Augusta University in 2019, is an associate editor of the publications IET Control Theory and Applications and Electronics journal, and he previously served as an associate editor of Neurocomputing from 2014-19.
Xiang's research interest is developing formal synthesis and verification techniques and software tools for cyber-physical systems (CPS). He is also broadly interested in methods and applications across CPS domains, such as control synthesis, stability analysis, reachable set computation, hybrid systems, power and energy, transportation, fuzzy logic and neural networks.