Dr. David Bulla, chair of the Department of Communication and professor of communication and journalism at Pamplin College of Arts, Humanities, and Social Sciences, has edited a book on India's well-known political and non-violent activist, Mahatma Gandhi.
Published last month, Gandhi, Advocacy Journalism, and the Media explores the activist's use of newspapers to communicate his thoughts and beliefs about global issues at the time. The book is composed of writings from Bulla and other authors including Parameet Kajal, Anjana Sharma, Sanjiv Kakar, Farwa Imam Ali, Norma Fay Green, Satrajit Ghosh Chowdhury, Gopa Sabharwal, Dipannita Dutta, James Buie and Christel Devadawson. The book is dedicated to Gandhi's granddaughter, Ela Gandhi.
Though there are tens of thousands of books about Gandhi, Bulla said the collaboration between multiple authors provides several perspectives for readers.
"I think that's what makes it a strong book," he said.
The book is divided into three sections containing several chapters about Gandhi's causes, views on religion and outward image. In the book, Bulla explains that Gandhi became a journalist "in order to spread his ideas and motivate his readers to follow his causes." In fact, Gandhi wrote much of his adult life.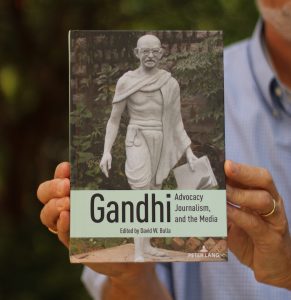 Gandhi was born Mohandas Karamchand Gandhi on Oct. 2, 1869. Referencing the 1982 film Gandhi, where Gandhi is depicted by Sir Ben Kingsley, Bulla said the movie introduced many people to the well-known figure. He described Gandhi, who was a trained lawyer before his role as a political activist, as both "sly" and "brilliant."
"Gandhi always saw himself as a citizen of the British empire and because of that, he had rights and was trying to claim those rights," he said. "That was really the cornerstone. That's why we call it advocacy journalism because he was advocating for Indian civil rights."
The country of India later separated from British rule on Aug. 15, 1947, a few months before Gandhi was assassinated on Jan. 30, 1948.
"India would have never gained its independence without Gandhi," Bulla said.
Part of the collaboration on the book began abroad on Gandhi's 150th birthday in 2019. The University of St. Andrews in Scotland hosted a conference with the help of Chandrika Kaul, a professor at the university, which included several researchers who took the time to present information about the historical figure. Though Bulla wanted to write a book about Gandhi before the event, the conference sparked an idea to combine the information into one book.
"They loved the idea," he said, referring to the researchers at the conference.
Bulla's studies on the Indian activist began two decades ago. In 2002, he visited India with his wife, who is a native of India, and has made several trips since then. Bulla said he was surprised to learn of Gandhi's contributions to journalism, which led him to further pursue his studies.
"I had no idea Gandhi was a journalist 20 years ago," he said.
To his surprise, Bulla stumbled across a digital copy of newspapers Gandhi published and edited on the counter of a small book shop in one of his travels abroad with his son.
"I was lucky," he said of finding the newspapers that assisted him with his research.
Gandhi was involved with several newspapers throughout his lifetime including The Indian Opinion, Young Indian, Navajivan, Harijan, Harijan Bandu, Harijan Sevank and Satyagraha.
The papers were published in multiple languages. Bulla said that oftentimes, the version of the paper in Gujarati language contained a slightly different version in comparison to what was published in English.
Bulla said Gandhi often covered a variety of topics including health, legal matters and educational information in his writings. He described the writing Gandhi did as "journalism with a point of view."
"The newspaper was a way to communicate with the Indian community, and to express different feelings or opinions about certain things," he said.
Bulla mentioned that some of Gandhi's views may be seen as controversial or complicated in today's time.
"He's a very complicated guy," he said. "Stuff that doesn't make a lot of sense to Westerners, that may make more sense to Indians or Hindus, complicates things."
Due to Gandhi's significant influence with newspapers, Bulla posed the question, "What would Gandhi do with social media?"
"He understood the value of words to the public. That's really, in a lot of ways, his legacy," he said. "That leadership that the newspapers help provide are a big part of his success in my opinion as a political leader. He was captivating."
Bulla described Gandhi as not only a mass communicator but an advocate for equality. He said he thinks that Frederick Douglass, Abraham Lincoln, Gandhi and Martin Luther King Jr. followed a pattern with King drawing ideas about non-violence and protesting from Gandhi.
"I see a thread," he said. "I think Dr. King interpreted Gandhi's ideas in an American context. If Black people and white people in America could get together, it would be a great place."
With this book, Bulla hopes to introduce a new generation of people to Gandhi.
"Most of all, I think of it in the terms of my own children," Bulla said, adding that his two sons are half Indian. "I want them to know that India had this incredible person living there and working to fight against an incredibly strong European empire. The underdog sometimes wins."
Bulla's book is available at multiple bookstores and Amazon.