Tammy Eboigbe, a kinesiology student, and Dorothy Elangwe, a psychology student, have been selected by their peers to serve as Spring Commencement speakers at their respective ceremonies on Thursday, May 13, at Lady A Pavilion in Evans.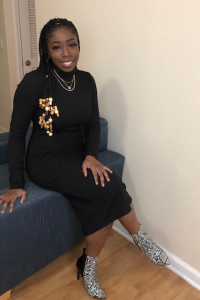 Eboigbe, who will speak at the 9 a.m. ceremony, said she wanted this opportunity to articulate the experiences the Class of 2021 has encountered.
"It felt unbelievable being accepted to speak because, growing up, I didn't talk much — some may say I'm an introvert," she said. "But when it came to being active on campus, I was a voice making changes. I really do appreciate everyone who voted for me and I look forward to speaking at commencement."
Eboigbe, originally from Lithonia, Georgia, attended Arabia Mountain High School. After graduation, Eboigbe plans on utilizing the skills gained from her internship to work as a rehabilitative technician in an inpatient physical therapy facility. She is excited to apply to a Doctor of Physical Therapy program and continue the research she participated in as an undergraduate.
She was a HOPE Scholarship recipient, a member of the Dean's List and the National Society of Leadership and Scholars, a Student Government Association senator, a senator at large for the College of Education, a chairperson for the traditions committee on the Jaguar Production Crew, a Housing and Residence Life conference assistant and a resident assistant. Eboigbe is also certified in Biosafety & Bloodborne Pathogens, Georgia Work Ready, NIH Guideline Training, Collaborative Institutional Training Initiative and the Safe Zone Project.
Elangwe, who will speak at the 1:30 p.m. ceremony, said she applied to be a commencement speaker because she wanted to be the one to encourage her peers to continue to persevere.
"I feel honored and joyful that I was selected as one of the winners," she said.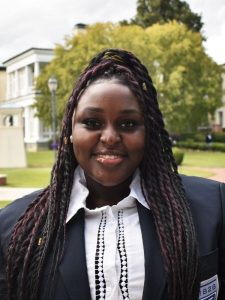 Elangwe, originally from Milledgeville, Georgia, attended Baldwin High School. Upon graduation from the College of Science and Mathematics, she plans to pursue her master's degree in counselor education. Elangwe served as vice president of the Psychology Pipeline, executive board member of the African Student Association, a peer health educator for Student Wellness Programs and an 1828 Ambassador for the Office of Admissions. In addition to her leadership experiences, she is also a Hope Scholarship recipient and has regularly earned a place on the Dean's List.
Learn more about the Spring 20121 Commencement ceremonies.