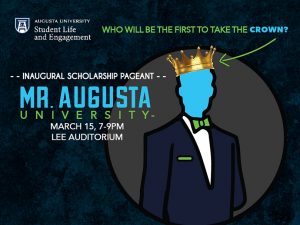 On March 15, Student Life and Engagement and the Jaguar Production Crew will host Augusta University's inaugural Mr. Augusta University scholarship pageant and seven students will compete for the crown.
"The purpose of the pageant is to build a new tradition that will help the university achieve its goal of being a student-centered university," said Paul Bradley Jr., program coordinator for student involvement. "We want to select a student that embodies the organization's mission and values."
Participants will perform in an opening number and will be judged based on their Jaguar pride (spirit wear), swimwear, formal wear, and their answer to an on-stage question.
Based on the gentlemen's performance in each segment of the pageant, judges will select three winners. There is also an opportunity for the audience to select who they think should win the title by donating money to the people's choice boxes during intermission.
The newly crowned Mr. Augusta University will not only receive a scholarship but will represent the university at several events throughout the remaining and upcoming school year. He will appear at the Student Organization Awards and will participate in The CREW's finals feast at the end of the semester.
Mr.  Augusta University also completes community service hours, volunteers at summer orientation and Week of Welcome events and will co-host the 3rd Annual Miss Augusta University Scholarship Pageant in September 2018.
Faculty, staff and student organizations can also request the appearance or participation of Mr. Augusta University at campus events.
The Mr. Augusta University Scholarship Pageant will be held in Lee Auditorium on Thursday, March 15, from 7-9 p.m. Doors open at 6:30 p.m. The event is free for students, faculty and staff with a valid JagID. Tickets are $5.
For more information about the pageant, contact Paul Bradley at 706-737-1610.