Augusta University's Spring Commencement featured a cohort of students who are the first to graduate from the Professional Scholars Programs.
The accelerated dual-degree programs are made possible by a partnership between the College of Science and Mathematics, Medical College of Georgia and The Dental College of Georgia.
These two programs provide students the opportunity to achieve their Bachelor of Science and Doctor of Medicine or Doctor of Dental Medicine degrees in seven years. During the first three years, students pursue a BS in Cell and Molecular Biology in the Department of Biological Sciences in the College of Science and Mathematics.
In their fourth year, students begin their four-year program in medicine or dentistry at either the Medical College of Georgia or The Dental College of Georgia. Courses taken in the first year of those programs are used to satisfy any remaining course requirements needed to complete the BS degree.
Students who apply to AU as undergraduates and select cell and molecular biology as a major must meet stringent eligibility requirements to be accepted into the Professional Scholars Programs. For both programs, applicants must meet a minimum high school grade point average of 3.7 and a minimum composite ACT score of 32 or an SAT score of 1,450 for the BS/MD program, or a 30 and 1,360 for the BS/DMD program.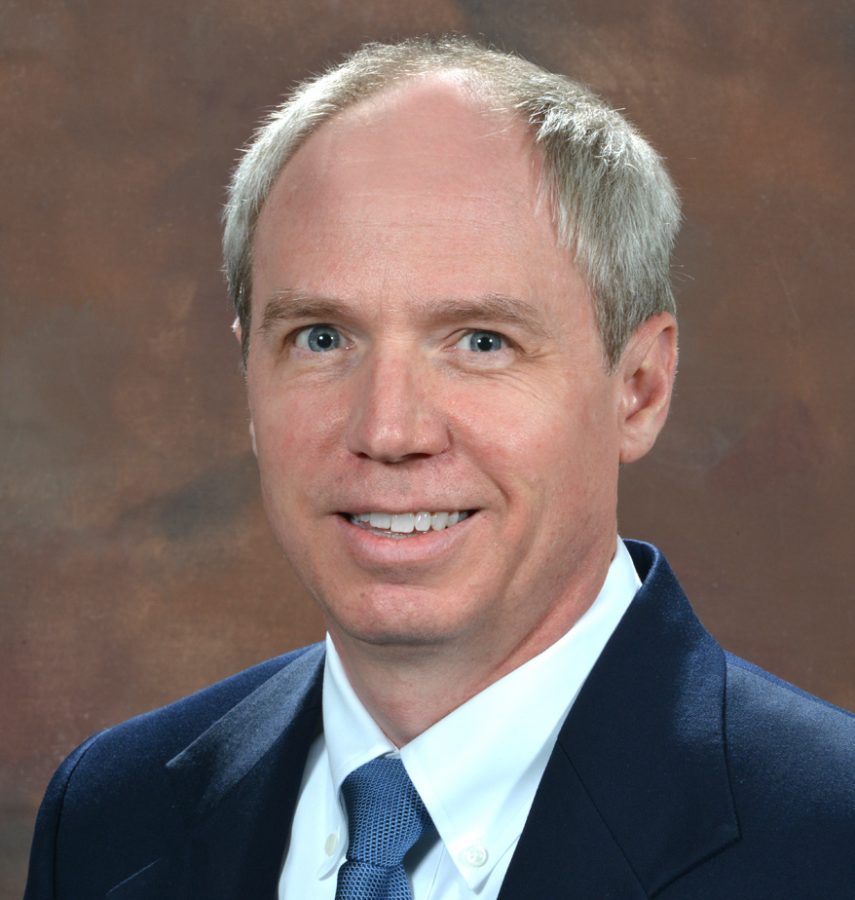 Dr. Richard Griner said former Vice Dean of MCG Paul Wallach reached out to him about the possibility of developing this program. Griner worked directly with him to develop the framework for the program.  A year later, he worked with Dr. Carol Hanes, associate dean of DCG, to begin developing the BS/DMD program.
"We engaged multiple faculty in the process as we designed the curriculum and other program parameters," said Griner, who is chair of the Department of Biological Sciences and has been associated with AU for over 26 years. "We started rather late in the annual cycle, so that first year we accepted only five students in what was originally a four-year undergraduate program. By the second year, we received approval to develop a three-year version, and we had a full cycle of recruiting."
Griner had high praise for Erin Chadwick, a former Augusta University Office of Admissions staff member, who "did an outstanding job of recruiting the high-ability students that met the eligibility requirements for the program.
"We had a robust class of 29 BS/MD students in the second year," Griner added. "The class size has remained strong ever since, and now we routinely receive over 100 applications each year."
Getting prepared
Griner said one of the benefits of the program is helping students make a seamless transition from their undergraduate program directly into medical school, as long as they meet all program expectations. Students are cohorts in most of their classes as undergraduates, and they receive guidance and support not only from the faculty but also from a "dedicated program manager."
"Originally Liz Gorman, and for the past four years, Sharn Vericella, have served as advisor, mentor, and sometimes confidant to students in the program through the role of program manager for the Professional Scholars Program," Griner said. "These individuals play a vital role to ensure not only that these students have adequate support but also that they remain on track with regard to the metrics and requirements for progression and continuation in the program."
Griner also mentioned that the relationships they form with CSM carry a lot of weight moving forward. Because these students complete their undergraduate requirements in only three years, they are younger than most of their fellow medical students.
"If there is any area in which they are likely to be unprepared, it is in maturity and professionalism," Griner said. "Direct interaction with our own program manager and faculty is one of the ways that we can help them develop the necessary skills in those areas to meet the professionalism expectations of MCG and DCG to blend in seamlessly with their future medical school classmates."
Zach Ramsey, who graduated this May with his M.D. degree, first heard about the Professional Scholars Program from Chadwick, who was his high school football coach's wife. Ramsey said she helped organized several visits to the campus to meet the people who would be involved with the program.
"My first three years in the College of Science and Mathematics helped set the tone for my path through the program," Ramsey said. "The course load was strenuous at times, but it helped me put into practice good study habits that served me well during my time at MCG."
Ramsey, who is originally from Detroit and later moved to Canton, Georgia, said his course load to start with was not so much that it prevented him from having a good school/life balance.
"Many of the upper-level biology courses I took as an undergraduate were directly applicable to the first two years of medical school, as those courses dove into cellular biology and biochemistry which are heavily stressed in the first year of medical school," he said. "I always tell folks that no undergraduate program can truly prepare a student for the firehose of information that medical school brings with it. However, I felt that the cell and molecular biology major did a good job of getting me as ready as I could be for the challenges and expectations in medical school."
Sanah Aslam, another recently graduated M.D., first heard about the Professional Scholars Program through a friend during her senior year at Brookwood High School in Snellville, Georgia. She originally considered going to the University of Georgia, but when she heard about the BS/MD program associated with MCG, she was immediately interested.
"Augusta was a second home for my family, as my brother was graduating from MCG at that time, so it was an easy decision," Aslam said.
Aslam looks back at the beginning and said she would have chosen to major in cell and molecular biology again because the rigorous curriculum prepared her for the Medical College Admissions Test (MCAT) and medical school, especially in cell biology, anatomy and histology.
"I loved the professor-to-class size ratio at AU. I was able to develop genuine connections with all my college professors," said Aslam, who participated in Biology Club, Honors Club and the Muslim Student Association during her first three years. "The cellular biology courses at the undergrad campus prepared me for the fast-paced biochemistry module during the first month of medical school.
"As an undergraduate, I visited downtown often for research and extra-curricular activities, which helped me familiarize myself with the Health Sciences Campus. My familiarity with Augusta by the time I was in medical school equipped me to become an MCG tour guide during my second year of medical school."
Courtney Marshall just graduated with her Doctor of Dental Medicine degree. She first heard of the Professional Scholars program from a friend who she met in high school.
"She and I reconnected because we were both planning on coming to Augusta University and she told me she had been accepted to the BS/MD program and encouraged me to look into the BS/DMD program," Marshall said. "I'm so thankful that she did."
Marshall agrees the first three years helped shape and prepare her for the rigors of dental school, saying the courses and the heavy class load were challenging but made the transition to DCG easier.
"I was already used to a rigorous course load, so I was well prepared for my first year of dental school, which was predominantly didactic," she said.
Another aspect of her first three years in CSM was the support system she created around her that helped her along the way.
"I had peers in both the BS/MD and BS/DMD programs. We all inevitably spent a lot of time together and quickly became great friends," Marshall said. "I think that the bond we shared was a crucial part of our success; it was so helpful to have people who understood exactly what you were going through and were always there to share in your struggles and successes."
Jessie Yuan transferred from Johns Hopkins University to Augusta University and is expected to graduate with a DMD.
"My high school friend applied to the BS/MD program and highly recommended that I come to AU but I wasn't interested in the medical program," said Yuan, who is from Lawrenceville, Georgia. "After some research, I found out that that was the first year they were offering the BS/DMD dental program, so I transferred. I am very lucky to be part of the first cohort of BS/DMD scholars."
Yuan said her first three years at AU were intense because they compressed four years' worth of science courses into three years. But she enjoyed it because she had so many other BS/MD and BS/DMD students to learn with and share experiences together.
"I learned how to efficiently study for courses and to have a good work/life balance, which helped me once I got into dental school," Yuan said. "My didactic courses in dental school were very easy for me because I implemented the same study techniques I learned in undergraduate school."
Overcoming challenges
Ramsey said he looks back now at his time at MCG with mixed feelings, saying he took the good with the bad.
"I still have my first exam results after getting through my first module at MCG. It was a major shock getting to medical school and handling the vast volume of content, but I persevered and was successful," said Ramsey, who also mentioned he got engaged to his wife not long after his first module.
His four-year journey through medical school meant facing challenge after challenge, from the intensive coursework to his white coat ceremony to passing nationally standardized exams to completion of all his clinical rotations.
"I feel grateful to have experienced those challenges, even if I did not feel the same way at the time," he said.
The biggest challenge he faced was outside of the classroom when in May 2020, his mother-in-law died of breast cancer and he and his wife became guardians for her 12-year-old sister.
"I certainly did not expect the time between my third and fourth year of medical school to be as challenging as it was, as my wife and I transitioned into this new stage of life and becoming parents overnight," Ramsey said. "But the three of us are the thing I am most proud of in life. We have all been successful after a long and difficult year. It is not always easy, but we have worked together and made the best out of a difficult situation."
Aslam said she felt herself grow personally and professionally through her clinical skills and interactions with patients. She was able to travel to Cusco, Peru, the summer after her first year in medical school to provide women's health services to the indigenous population. She became involved in a free health clinic dedicated to the uninsured Asian-American population in Augusta.
"The best part of MCG is the people," she said. "My classmates are all incredible people to work with. The teaching faculty at the hospital genuinely want students to learn and experience medicine hands-on.
"I struggled with time management during the first two years of medical school. I found it challenging to balance class lectures, board preparation, research, fitness and time with friends and family," Aslam added. "During the latter half of medical school, I was able to better manage my time by setting smaller and more achievable goals. I took more frequent study breaks, such as short trips to the gym or the local ice cream shop with friends, which helped with my mental wellness and refocused my energy when I went back to studying."
Marshall and Yuan both said their time at DCG has been incredible.
Yuan said dental school at DCG has been her dream since she was in elementary school. Marshall, who also said it was her goal to become a dentist since an early age, is grateful she's been able to live out her dream at DCG.
Marshall became involved in Medical Campus Outreach and was able to meet an "amazing group" of like-minded people. She also felt blessed to have participated in two dental mission trips in 2018 and 2019, one to Haiti and another to Romania.
"One of the biggest reasons I love this profession is because it gives me the ability to help people and serving on mission trips is one of the best ways that I can do so," Marshall said.
While Yuan has enjoyed her time, she did persevere through a steep learning curve for all things related to hand skills, since she never had experience with those before. She also had to deal with her father's passing during her D2 year.
"It was really overwhelming and upsetting, and I was absolutely devastated," said Yuan, who also underwent jaw surgery during her D3 year and had to take a lot of time off to recover while still keeping up with classes on her own. "There were also many daily challenges such as finding the right patients to complete my requirements and trying to get licensed for the dental profession with the rules for dental practices changing all the time due to COVID."
Marshall said the hands-on training can take a lot of getting used to early on and requires a lot of practice time.
"One of the main things that helped me was the willingness of upperclassmen to take time out of their own busy schedules and sit down with me to go over anything I was struggling with," Marshall said.
First graduates
Griner said it's hard to believe the first cohorts are graduating. He said early on, the staff was analyzing every aspect of the program to ensure they were equipping the students sufficiently to be successful in medical school. He said the first sign of success came with the MCAT scores of the second cohort BS/MD students after their sophomore year.
"The Professional Scholars' scores were really good. In fact, their overall MCAT average exceeded that of the other students entering MCG that year," Griner said. "Then as that first group began medical school, we held our breath hoping that they would perform well. We were elated as some of our colleagues in MCG and DCG began to report on their success. This really confirmed that we were providing good preparation for those students to be successful medical and dental students. It was really great validation of all the hard work we had put into the program."
Ramsey, Aslam, Marshall and Yuan are proud and honored to be in the first cohorts graduating from the Professional Scholars Program.
"I remember sitting in orientation in the summer of 2014 when Dr. Griner told us that only about 50% of us would matriculate to MCG and graduate from medical school. He was pretty close on those numbers," Ramsey said. "I remember worrying that I would be one of the people who did not make it, but I am proud of the effort I put in over the years, and I am thankful for all of the people who helped me make it here."
Aslam said it feels amazing to think of how far her cohort has come, from 18-year-olds fresh out of high school to now. Marshall said it feels incredible to show that this program has been successful.
"When I was first accepted to the program at the age of 18, it seemed almost too good to be true, but I can now say that it was one of the best decisions I've ever made," Marshall said. "It's a huge accomplishment to have completed this program and be starting my career at the age of 25."
Yuan said it feels like a dream to be among the first to graduate from the BS/DMD program.
"I feel so accomplished and that I've become a good model for future students, in that they know even though it's a long seven years, there is an end and you can be so successful, grow a lot and learn so much throughout this whole process," she said. "It's so rewarding to finally be able to graduate and enter my top career choice."
Griner is excited that these graduates will represent not only MCG and DCG, but also the Professional Scholars Program.
"They validate the success of the program, and they will be direct ambassadors of the full spectrum of our university, from undergraduate programs to doctoral programs, specifically the M.D. and D.M.D. programs. More than that, their success serves as a clear example of the capability of our entire university to equip students for both advanced academic training and for impactful health care careers."
Words of encouragement
Aslam's brother was involved in a car accident that left him paralyzed shortly before he was accepted to MCG. She said he joined the incoming MCG class in 2010 after a year of rehabilitation at AU Health and Atlanta's Shepherd Center. His motivation to become a doctor despite his physical disability was influential to her development as a young adult and decision to pursue medicine.
"When I started my medical journey through the PS program, he was my go-to mentor for everything," she said. "During my clinical rotations, I found it inspiring to be working in the same Level 1 trauma center that saved my brother's life.
"Through my experiences with my brother and other patients living with disabilities, I realized I wanted to pursue a field in surgery so I could use surgical skills to significantly improve a patient's quality of life. My brother was the first person to tell me to consider ophthalmology when choosing a specialty, because of the great outcomes and opportunities for global health."
Aslam's advice is simply to live in the present.
"I understand how it feels to always be planning for the next step in life," said Aslam, who matched in ophthalmology with the Kresge Eye Institute at Wayne State University in Detroit. "I'm so excited to move to the Midwest and pursue my dream career of restoring vision. There will always be another quiz or exam to study for. Enjoy every experience in undergrad while you can because it goes by so fast; the memories you make with your friends and family during that time are so valuable."
Marshall is planning on returning to Young Harris, Georgia, to practice general dentistry. She said finding a good support system and making time for the things you love help with the day-to-day struggles.
"This program can be very challenging and there will be tough days, but having a support system of friends and family can be a safe space when you are struggling and an amazing group of people to share in your successes," she said.
Yuan, who will spend the next three years in periodontics at DCG, said even though the first three years in the undergraduate program are accelerated, "there is a light at the end of the tunnel and you will be so grateful to yourself for going through this and achieving your dream of becoming a dentist. When you look back, it's the best choice you could have ever made and it's also the least stressful and fastest path to becoming a dentist."
Ramsey said the program is what you make of it and advised others considering medical school to be honest with themselves.
"There are stepwise progressions for you to follow, and you can put in the minimum or you can really focus and prepare yourself well to be a physician. It starts on Day One," said Ramsey, who matched into pathology at MCG, which was his first choice. "I have seen folks go into medicine because they felt like they had to for multiple different reasons. As it turns out, once you get here, those reasons aren't what keep you studying for hours on end, get you up at 4 a.m. for your surgery rotation or help you get through watching a patient die.
"This field is not for everyone and certainly not for the faint of heart. You have to be tough; you have to really want it for yourself. Family pressure, peer pressure, a big paycheck — none of that gets you through the dark times in medical school. People don't want to talk about those times, but they are real. Medical school is totally worth the blood, sweat, and tears."