Augusta University's College of Nursing Athens Campus officially reopened the Kellett Building on Monday, Sept. 11.
With the completion of the CONAT renovation, the college elevates the standard of learning and training for all students, regardless of location. The updated campus boasts two classrooms, skills labs, simulation rooms and a student lounge. This renovation also allows for enrollment growth within the program on the Athens campus.
A ribbon-cutting ceremony featured donors as well as guests from Wellstar, Piedmont and St. Mary's health systems. The event began with remarks from College of Nursing Dean Tanya Sudia, Augusta University President Brooks A. Keel, PhD, and Provost and Executive Vice President for Academic Affairs Neil J. MacKinnon, PhD.
"This campus holds a special place in our hearts," said Keel. "We're not just celebrating the renovation of a physical space – we're celebrating the heart of our nursing education in Athens and the incredible journey it represents."
Leaders also expressed gratitude to the University System of Georgia, which provided special funding to be utilized for pre-licensure undergraduate nursing student class size expansion. Additional simulation and skills lab equipment were also purchased with USG funding support.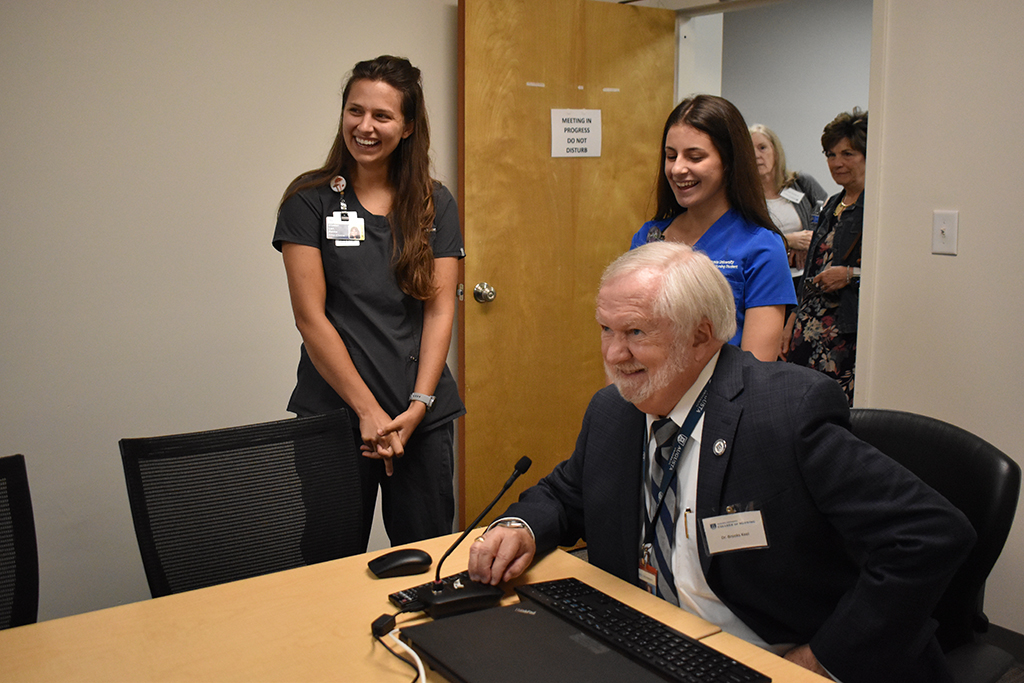 After recognizing the hard work of faculty, staff and students in making the campus a success, campus leaders helped cut the ribbon and welcomed guests to tour the new facility.
"This campus symbolizes the collaboration that thrives within our community – a collaboration that has enabled us to provide exceptional nursing education for decades," Keel said. "To our students, I want you to know that CONAT is not just a place to study; it's a place where you'll develop the skills, knowledge, and compassion that will define your nursing career. We are excited to see the remarkable achievements that lie ahead for each of you."
The College of Nursing has two campuses that serve students by offering outstanding faculty and programs of excellence to shape future nurses. In 1956, the University of Georgia nursing program moved to Augusta under the umbrella of the Medical College of Georgia. The partnership between the locations was cultivated in 1974, when the School of Nursing expanded the BSN program over to Athens to address the area's nursing shortage.
For the next 17 years, Athens' nursing students traveled across the UGA campus to various classrooms in order to earn their degrees. They found a permanent home in 1991, and 32 years later, the College of Nursing is celebrating the grand reopening of its Athens campus.
"Over the years, this campus has evolved and flourished into what we know today – a thriving hub of nursing education that continues to shape the future of health care professionals," said MacKinnon. "As we celebrate the grand reopening of this campus, we reflect on its rich history and the impact it has had on countless lives. We're thrilled to continue providing exceptional nursing education to our students while expanding our partnership in Athens."