Augusta University's College of Education will host Kinesiology Research Day from 9 a.m. to 1 p.m. Thursday, March 25. The day will highlight research from undergraduate and graduate kinesiology students.
Kinesiology is the scientific study of the anatomy, physiology, and mechanics of body movement, especially in humans. A bachelor's degree in Kinesiology leads to careers in exercise; fitness, wellness, and health promotion; sport; and rehabilitation.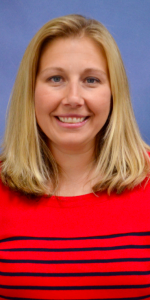 Dr. Danielle D. Wadsworth will be the keynote speaker. Wadsworth is an associate professor at Auburn University in the School of Kinesiology and director of the Exercise Adherence and Obesity prevention laboratory. Her research focuses on identifying environmental, psychological and social underpinnings of exercise adherence and translating these findings to effective evidence-based interventions, primarily for women and children. 
Wadsworth has served as a co-investigator on National Institutes of Health and Robert Wood Johnson Foundation grants aimed at examining the impact of physical activity policies on children's physical activity levels at school and during physical education. Over the past several years, she has concentrated her efforts on identifying factors to long-term exercise adherence in young children. Wadsworth lives with her husband and three children in Auburn, Alabama.
Throughout the day there will be poster viewings and student presentations. Drs. Maleah Holland, Madison Kindred, Graeme Connolly and Hannah Bennett will host "Strategies for navigating undergraduate research," a panel discussion moderated by Dr. Nicole Peritore, assistant professor in the College of Education.
The event will be held virtually via Microsoft Teams. Contact Drs. Hannah Bennett or Nicole Peritore for access to the link.