Dean Lester Pretlow said the College of Allied Health Sciences is focused on the next generation during his State of the College address Oct. 30.
In his first address since being named dean in 2018, Pretlow said he often thinks about the next generation because those are the students they are currently training. He also mentioned the pillars of academia: education, research and service.
"A pillar is something that gives strength … it's something that stabilizes," he said. "I certainly believe education, research and service are the pillars of academia, and they've helped establish who we are as College of Allied Health Sciences."
While highlighting the six departments within CAHS and its 15 academic programs, Pretlow said a decision was made to house all of the undergraduate health professions under Ana Thompson, chair of that department. The Department of Interdisciplinary Health Sciences houses the programs for nutrition, PhD, and public health. He also introduced the new associate dean of academic affairs, Dr. Judith Stallings, who will begin Dec. 1.
Pretlow said total enrollment has risen since the fall of 2016, going from 761 to 862 this year, with 457 undergraduates and 405 graduate students. Most of the enrollment in undergraduate programs is in the Bachelor of Science in Health Services program.
"We have 289 students in the program, and 80 of those students are juniors and seniors. So most of this growth that we see here is actually due to that program," Pretlow said.
Despite the high undergraduate numbers from fall 2018 to this year, they are down 17 graduate students and Pretlow said "we have analyzed this and we're going to be working together with the chairs and the program directors and (executive vice president for academic affairs and provost) Dr. Gretchen Caughman to come up with a way to attack this."
Pretlow also mentioned that diversity amongst students continues to be high in the undergraduate programs, but they continue to be challenged in graduate programs. He said he is working with Tiffany Townsend, AU's new chief diversity officer, as well as the new program coordinator, Kimberly Curtis, to work on a strategy to address the issue.
Pretlow praised the college's graduation statistics for fiscal year 2019. CAHS graduated 270 students, 81 undergraduates and 189 graduates, which included two PhD graduates and 100% graduation in seven programs.
"Over the past year, I have spent a lot of time orientating students and meeting parents at preview days, and this is what I talk about: our 100% graduation rates," Pretlow said. "When I see these numbers, I'm also thinking about the next generation that is coming up that we are sending out into the workforce."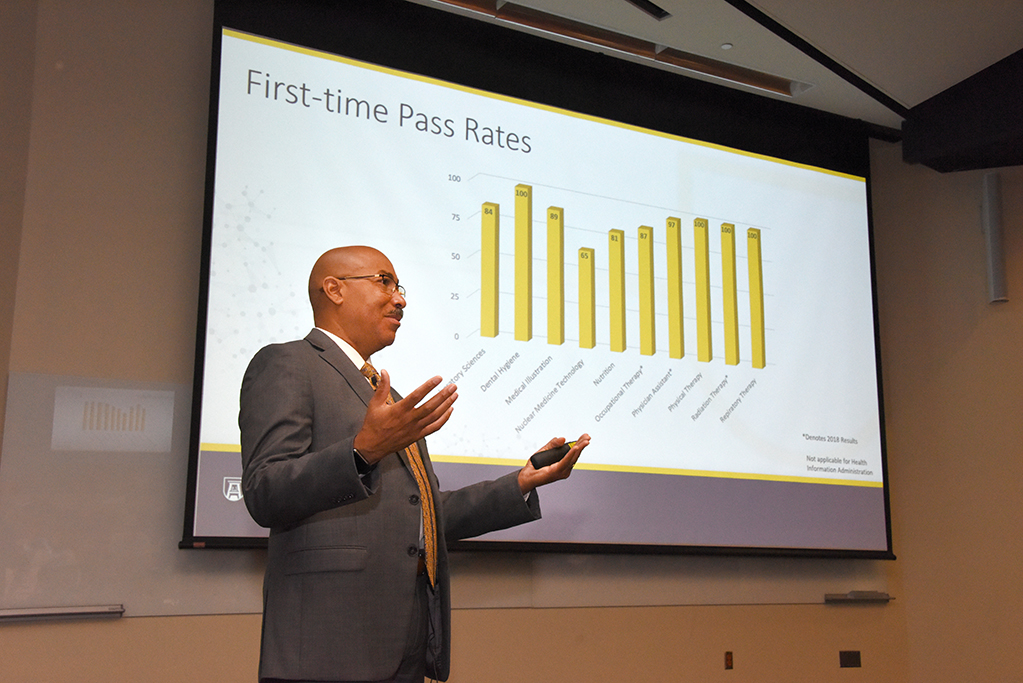 The employment rate for clinical laboratory sciences, dental hygiene, medical illustration, nutrition, occupational therapy, physician assistant, physical therapy and respiratory therapy are all at 100%, according to 2018 results.
"To me, what this represents is tax revenue, getting married, buying a house and having children and doing what people do for the state and for the country," he said. "I'm very proud about what we're doing for the students and how it's demonstrated; we know that they're going out and getting employed. So, that should make all of you very proud, too."
Occupational therapy, which ranks No. 58 in U.S News & World Report Best Grad Schools top 100 ranked programs, is going through its accreditation process along with clinical laboratory sciences, physical therapy and respiratory therapy. Dental hygiene received preliminary approval in August and is awaiting the commission's January 2020 meeting for final approval. Medical illustration was approved in January for another eight years and physician assistant, which was listed No. 93 in the top 100, has also been approved for another 10 years.
Pretlow formally welcomed his 10 new faculty and said of those, "eight of them are graduates from our programs."
Pretlow continued his praise for his faculty and staff, including Dr. Andrew Mazzoli, inspirational educator award; Dr. Sharon Cosper, outstanding faculty award; Dr. Teal Benevides, faculty research award; Leslie Bell, staff award for excellence; and Pam Edwards, staff distinguished service award.
Helping CAHS receive $4.3 million in research funding were primary investigators Drs. Andrew Balas, Lori Bolgla, Gianluca De Leo, Giri Banabihari, Vahe Heboyan, Pavani Rangachari and Mohan Wakade, Rachel Fink and Benevides. Researchers in allied health submitted 11 proposals for fiscal year 2019. The faculty also appeared in 36 total publications this past year.
Benevides is the research council chair and has been working on the group's mission to allow a diverse group of health professionals a chance to collaborate to serve education, clinical care and the greater society through excellence in research.
The council is also trying to grow extramural funding, mentor faculty and facilitate their growth in research while enriching the curriculum with cutting-edge research and technology information that empowers students and continues to build community-based research.
Pretlow closed by highlighting the college's service, which included occupational therapy students and faculty traveling to Jamaica to volunteer at the Mustard Seed Communities, an international nonprofit dedicated to caring for the most vulnerable populations throughout the developing world. OT and physician assistants also volunteer at the Equality Clinic of Augusta as well as at the women's clinic in Peru; dental hygiene faculty and students participated in Georgia Mission of Mercy, which was held at James Brown Arena this past year, as well as Give Kids a Smile; PT visited India to participate in service learning; respiratory therapy played host to the Asthma Camp; and faculty and staff annually support the Costa Layman Health Fair in Trenton, South Carolina.
"We are very proud of the service we do as a college," Pretlow said.