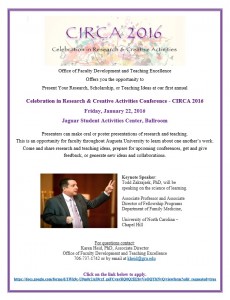 Do you have new research to present to colleagues? Do you have a great teaching lesson that needs a trial run? Perhaps you need to prepare for a conference. If so, CIRCA 2016 is your chance to shine for your colleagues at Georgia Regents University, soon to be Augusta University.
Though the Celebration in Research and Creative Activities Conference (CIRCA) won't occur until Jan. 22, 2016, the deadline for proposals is Friday, November 6.
The one-day symposium, held in the ballroom of the Jaguar Student Activities Center, will allow faculty to present, highlight and celebrate teaching, research, scholarship and creative activity. Presenters may choose a 20-minute presentation or a poster session.
Keynote speaker Dr. Todd Zakrajsek will speak on the science of learning.
Visit the application page to apply.