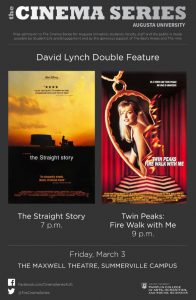 The Cinema Series returns on Friday, March 3 with a David Lynch double feature kicking off at 7 p.m.
The Straight Story
Screens at 7 p.m.
Richard Farnsworth received an Oscar nomination for his final, tender performance in 1999's rarely-screened The Straight Story. This is a David Lynch film unlike any other. It is sweet and eloquent. It is also rated G and is distributed by Walt Disney Pictures. The Straight Story also features beautiful and nuanced performances by Sissy Spacek and Harry Dean Stanton as well as gorgeous cinematography by Freddie Francis. Experience this lovely film as Mr. Lynch intended – on the big screen. Bring the entire family!
Twin Peaks: Fire Walk with Me 
Screens at 9 p.m.
At the other end of the spectrum is Mr. Lynch's most challenging and terrifying film, 1992's Twin Peaks: Fire Walk with Me. This prequel to the soon-to-be-revived cult series of the early 1990s finds Lynch recontextualizing the cancelled series' mythos with a vengeance. Twin Peaks: Fire Walk with Me also features truly Lynchian performances from David Bowie, Chris Isaak, Keifer Sutherland and many of the series' original cast members. Twin Peaks: Fire Walk with Me is rated R and is not for the faint of heart. Do not bring the entire family!
Free admission to The Cinema Series for Augusta University students, faculty, staff and the community is made possible by Student Life and Engagement and by the generous support of The Bee's Knees and The Hive.