Augusta University's Facilities Department is expecting the delivery of a large chiller unit on Monday, Nov. 18, which will be placed by crane at the South Energy Plant (CM) at Goss Lane, opposite the J. Harold Harrison, M.D. Education Commons.
To accommodate delivery and installation, Goss Lane will be closed at R.A. Dent Boulevard from 6 a.m. to 1 p.m. Monday, Nov. 18. Augusta University Police will assist with traffic.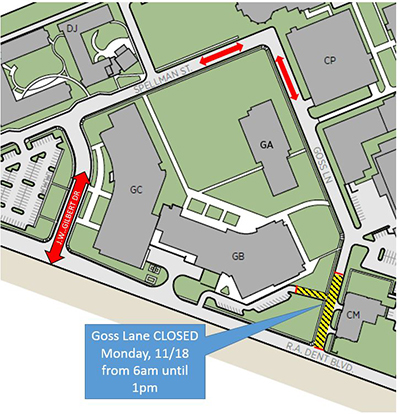 This map shows the affected area in yellow on Goss Lane.If you park in Goss Lane Deck 4, please make plans to enter the deck by way of John Wesley Gilbert Drive, and then take Spellman to Goss. Likewise, if you must leave Deck 4 before the road is reopened, you must exit via Spellman and Gilbert. If you park behind the Carl T. Sanders Research and Education Building or the Hamilton Wing, you should also enter from Gilbert.
Facilities anticipates the work to take about five to six hours, and Goss Lane is expected to reopen by 1 p.m. Monday.
Please pardon any inconvenience.
For the latest news on construction, parking and transportation, please bookmark the Pardon Our Progress page in Jagwire.