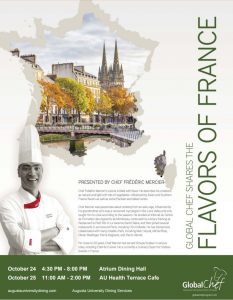 Enjoy the flavors of France this week, when acclaimed chef Frederic Mercier brings his passion for cooking to Augusta University.
Currently a culinary expert for Sodexo brands in France, Mercier studied at Internat du Centre de Formation des Apprentis de Montereau, continued his culinary training at Restaurant le Petit Ritz in La Varenne-Saint-Hilaire and then joined several restaurants in and around Paris.
The special meals will be served from 4:30 – 8 p.m. on Oct. 24 at the Atrium Dining Hall on the Health Sciences Campus and from 11 a.m. – 2 p.m. at Augusta University Health's Terrace Café.
Students who are on the Jaguar Blue or Jaguar Gold plan may use one of their swipes for dinner in Atrium Dining Hall on Oct. 24. Other guests may pay $10.49 to enjoy the meal.