Cheerleading is an important aspect of sports, as a cheerleader is often seen as a sports team's biggest supporter.
They can sometimes inspire a team with the spark needed to change the momentum of the game, and head coach Harleigh Smith believes cheerleaders were made for these specific reasons.
"The phrase that someone is your 'biggest cheerleader' exists for a reason," she said. "A cheerleader is their school and team's biggest advocate and encourager. They bring so much energy to a sporting event and bring unwavering encouragement to their peers. Much like student athletes, cheerleaders are representatives of the institution at events and appearances throughout the CSRA as well."
Augusta University uses cheers and chants to provide the audience with a sense of remembrance and pride, Smith said.
"Our cheers and chants are ones that have been used since before I began my coaching journey at Augusta University. I find that when it comes to collegiate sporting events, there is a sense of nostalgia when you attend as an alumni when you hear a familiar cheer, chant, or song being played by the pep band," she said. "For this reason, I have made it a conscious effort to continue to utilize the existing cheers that have remained a constant, even through all of the university's name changes!"
Cheerleaders are tasked with various responsibilities when they are in front of the crowd. A cheerleader's job is to encourage not only the sports team, but the fans and themselves as well, performing in front of the audience at halftime. During their performance, they perform routines, stunts and jumps before the second half of the game starts.
Smith believes the key to performing these tasks during the game is chemistry.
"Chemistry between members of a cheerleading team is absolutely vital. You have to trust in the people that are lifting and tossing you over 8 feet in the air above a hard gym floor, as well as trust in the person you are allowing to stand on top of you," she said.
"Spectators at sporting events feed off of the energy of cheerleaders, but the cheerleaders feed off of each other. The chemistry created amongst the team each year can heavily be attributed to our veterans who return each season and lead their peers."
Cheerleaders are athletes who have to be in great shape to perform during the game. Augusta University's cheerleaders participate in a number of practices so they are ready to perform on game day.
"In the past, in non-COVID years, the gameday team practiced one or two times per week, and those on the competitive team had at least one additional practice a week," Turner said. "All of this was in addition to cheering at home volleyball and basketball games. This season, we practice twice a week."
The first 10-15 minutes is mostly spent warming up by stretching and jogging, she said.
"In previous years, the first hour of practice is spent reviewing gameday materials and running through the 'game plan' for the next volleyball or basketball game. Game plan is what we use to refer to the stunts, pyramids and/or dances we plan to do during regular and/or media timeouts at a game," Smith added.
"Prior to performing a skill, stunt or pyramid on the court, the team must 'hit' or 'stick' the stunt five times in a row at a practice; we always want them to be prepared to represent themselves and Augusta University to the best of their ability. The remainder of practices are dedicated to learning more advanced stunting skills, tumbling and working on skill progression. Practice is concluded with strength and conditioning exercises."
The cheerleaders' success is not only thanks to chemistry and practice; their success also comes from a healthy lifestyle.
"We encourage a healthy lifestyle amongst the cheerleaders that promotes their overall well-being — their physical health, emotional health and their mental health. While they do not have a set diet, we strongly encourage them to remember that unlike in other sports where you may lift weights or throw a ball… In cheerleading, other humans are what you are lifting/tossing, and everyone's safety heavily relies on them taking proper care of their bodies and fueling them properly."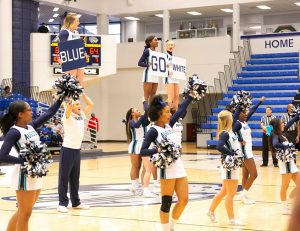 The cheerleading squad has been affected by COVID-19 just like all of the sports teams at Augusta University. Smith has had to find new ways to conduct cheerleading activities with COVID-19 still lurking around.
"When the COVID-19 pandemic 'arrived' in Augusta and campus/learning went remote, that brought our competitive cheerleading season to an abrupt end. The competitive team, comprised of members of our gameday team, had just won the 2020 Peach Belt Conference Spirit Competition, and were preparing to go compete at CANAM Nationals that weekend," she said.
"We transitioned our tryouts for the 2020-21 season to be virtual. After the team was selected based on their video submissions, they were tasked with learning our gameday cheers, chants and dances from recordings rather than at in-person practices," she said.
"Although we had hoped to begin practicing in person in the fall, we ultimately did not have a team due to the prevalence of COVID-19 and Augusta University sporting events not having fans."
With the fans attending sports events again, Smith hopes the competition part of cheerleading will start back up again next season.
"We plan to bring the competition component back to our team in the 2022-23 season. We also are hopeful to continue to grow the competitive component of our cheerleading program beyond the two competitions we have historically competed at, and someday take them to compete at the NCA Collegiate Nationals in Daytona Beach, Florida, every spring."