Cultivating a "healthy health culture" by engaging the community is a primary focus as Augusta University's Center for Bioethics and Health Policy enters a new phase of growth in its fifth year.
At the beginning of 2021, the CBHP established a new five-year strategic research plan centered around three themes: ethics and the health professions; ethics and policy of public health; and community engagement, social justice and advocacy.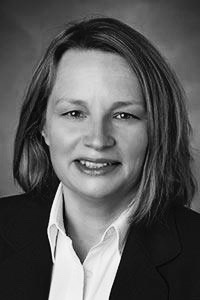 "So many contemporary health challenges, like COVID-19, the opioid epidemic and efforts to secure health equity, are influenced by deep-rooted but under-examined ethical assumptions. The new research plan is focused on developing the type of interdisciplinary work needed to make a difference to such issues," said Dr. Laura Williamson, who was appointed associate director in 2020 before being named director on Jan. 1, with Dr. Paul Mann named director of clinical ethics.
The CBHP was established as a center of excellence at Augusta University in 2016 and is housed within the Institute of Public and Preventive Health (IPPH).
Currently under the leadership of Williamson, the center's mission is to provide a person-centered clinical ethics consultation service, conduct interdisciplinary research rooted in health ethics and policy to address challenges that undermine health and wellbeing locally and nationally and provide educational initiatives that develop greater understanding of the importance of ethics in health policy and practice.
Recently, the CBHP has given joint appointment to Drs. Candace Best and Jessica Dillard-Wright, and is about to advertise a new full-time bioethics faculty post.
"It's critical for the next stage of the center's development to have another full-time faculty member support the delivery on our research agenda, but also to take a lead role in the development of a new master's degree in bioethics and health policy," Williamson said.
Since its inception, the CBHP has primarily been associated with clinical ethics and health professional ethics education. While this will remain a key part of the center's work, its new focus on public health and civic engagement will help the center work to address the complexity of health issues beyond the clinic.
Additionally, according to Williamson, this new focus will allow the center to better deliver on the goals of academic centers within the University System of Georgia – which are to "create new interdisciplinary models for research, education, and clinical care; create synergies across disciplines; foster a research environment that promotes innovation and interdisciplinary collaboration; and create a culture of excellence."
The focus on interdisciplinary collaboration is particularly important, according to Williamson. "Health challenges often span different parts of our health system," she said. "COVID-19 is a good example of this. It is an issue for clinical care and public health, so it's important to develop a joined-up response. Ethics has an important part to play in this."
The themes for the next five years were selected to develop a much-needed interdisciplinary approach to health and wellbeing and to best utilize the diverse skills and interests of faculty affiliated with CBHP. The CBHP intends to use its interdisciplinary ethical and policy work to focus on issues that are important to local communities, particularly the historic Laney Walker area of Augusta. This allows the CBHP to develop a clear and distinctive identity.
The themes in the new plan are:
Ethics and the Health Professions
This theme is a continuation of the center's work on clinical ethics and its policy implications. It includes support for Augusta University's faculty research, its clinical ethics consultation service and the work of graduate and medical students. In its next phase of development, beginning January 2022, the CBHP will prioritize developing ethics and policy support for interprofessional health care teams.
Public Health: Ethics and Policy
While continuity is important for CBHP as it progresses, the center must also develop in ways that equip it to respond to urgent contemporary health challenges. Issues such as substance use disorders, obesity and COVID-19 and the high cost and affordability of health care are public health issues that impact health and well-being. They also require an approach that goes beyond clinical ethics and policy.
Community Engagement, Social Justice and Advocacy
Community health outcomes are impacted negatively by marked racial disparities and the distrust of health systems. Therefore, according to its leadership, the CBHP has a responsibility to develop and lead a sustainable work program to effectively engage with the local community. Over the next five years, the CBHP will work to identify pre-existing community partnerships at Augusta University and to develop new relationships with local stakeholders to inform a work program focused on trust, social justice and advocacy.
Phase One, which began in March 2021 and runs through December, has focused on the development of interdisciplinary, multi-experience interest groups for each of the four themes of the strategic plan. These groups have done a series of "brainstorming" meetings surrounding key issues around which faculty can develop short papers, commentaries or positions papers, and have identified external funding to support interdisciplinary bioethics and health policy work.
"The center is really keen to hear from people, whether colleagues at AU or members of the local community, who want to participate in or learn more about our work," said Williamson.
"The pandemic has unfortunately reminded us of the importance of having a healthy public health system, and the type of trust-based relationships across communities that are able to withstand and help us navigate crises. While we have begun conversations on the role of ethics and policy in meeting health challenges, wider, more diverse participation is mission critical to cultivating a healthy health culture."