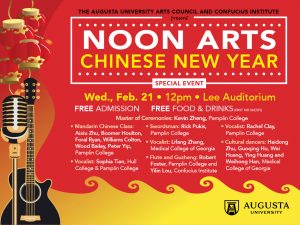 Start off the Year of the Dog with Augusta University's first and only official Chinese New Year celebration. The Augusta University Arts Council and the Confucius Institute present the talents of students, staff and faculty in a special Noon Arts: Chinese New Year event on Wednesday, February 21, in the Lee Auditorium.
Like other concerts in the series, audience members from the health system and university can enjoy free admission, food and drinks. But this special presentation will exclusively pay tribute to Chinese culture, as it falls in the two-week New Year celebration period.
Master of Ceremonies Kevin Zheng, Pamplin College of Arts, Humanities and Social Sciences faulty, will introduce the following performers:
Mandarin Chinese Class: Aixiu Zhu, Boomer Houlton, Foral Ryan, Williams Colton, Wood Bailey, Peter Yip, Pamplin College
Vocalist: Sophia Tian, Hull College and Pamplin College
Swordsman: Rick Pukis, Pamplin College
Vocalist: Lifang Zhang, Medical College of Georgia
Flute and Guzheng: Robert Foster, Pamplin College and Yilin Lou, Confucius Institute
Vocalist: Rachel Clay, Pamplin College
Cultural dancers: Haidong Zhu, Guoqing Hu, Wei Huang, Ying Huang and Weihong Han, Medical College of Georgia
Noon Arts returns to its regular programming on March 28. Please email Tricia Perea to sign up to perform.