As students and faculty rush around Augusta University this semester, they may notice a few surprises on campus that cause them to pause and think on their way to class.
Over the next several weeks, art students enrolled in Augusta University art professor Brian Rust's sculptural installation class at Pamplin College of Arts, Humanities, and Social Sciences will be creating public art in a variety of locations around campus.
"This is an installation art class that challenges students to build something for that specific place," Rust said, explaining that his art students must consider not only the location, but also the audience that will encounter the public art. "We are working here on campus. Right now, we are working out in the Quad in some of the gun niches, and then the students will do a final project out on campus on a site of their choosing."
The gun niches in the Augusta Arsenal area on the Summerville Campus offer a unique location because of the physical history of the area, Rust said.
"When creating public art, it brings in several unique challenges, such as the idea of having to work out in the elements," Rust said. "In this case, they are having to work with something that is temporary, but it has to be sturdy enough to hold up over the weeks with rain and the heat.
"And then, they have to keep thinking of the idea of context, of environment and of the audience. It's very different than just building a piece in the studio."
Students are also learning people often have an immediate reaction to public art, Rust said.
"Students have to think about who they are making the art for and why and how are people going to react to it," he said. "They will get immediate feedback and a reaction from people taking their piece all different kinds of ways. It is something that is very much a part of the public realm."
In addition, it is important for students to understand that public art is viewed and treated much differently than other forms of art.
"If you put something out into a public space on a college campus or on the street somewhere, people kind of assume that it's theirs and that they have access to touch it, climb on it or sit on it," Rust said. "They feel like they own it. But that's all part of that continuum of working with art out in a public space."
Different spaces, different ideas
While the art students are finishing up their pieces in the Quad this week, their first assignment this semester was to create an installation in one or more of the lockers located on the second floor of Washington Hall on the Summerville Campus.
These installations will remain up in Washington Hall through the month of October.
Mary Besel, a junior art major in Rust's installation class, created a funky creature crawling out of her locker in Washington Hall.
"I really like little creatures and folklore and myths about little people, so I was thinking about a creature that would find an empty locker and make his little home there," Besel said. "I thought about how he would live in this trash heap, but he has made it his own and he would have signs up that say, 'Don't open!' That way, no one will find him."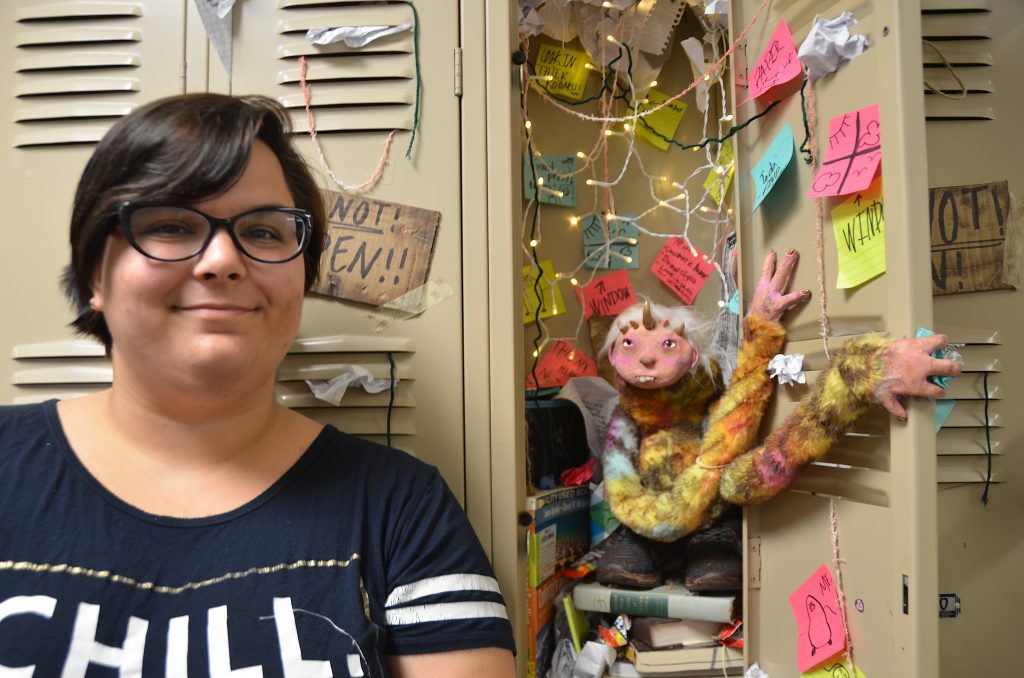 Besel said she has enjoyed seeing other students' reactions to her creature living in a locker.
"I like the idea of having something that looks kind of creepy be nice and childlike," she said, adding that her installation in the Quad has a similar theme. "But, in that case, the idea is sort of flipped. I want to create something that seems nice, but it's actually not. So I am really excited to see how people will react to that piece once it's done."
The beauty of Rust's installation class is that students can explore a wide range of ideas in different spaces, Besel said.
"Professor Rust lets you take an idea and develop it the way you want to, so there are not too many restrictions other than you have to be in a certain space and you have to refer back to that space," Besel said. "But I can do whatever I want, and I can push the things that I personally enjoy making in art."
Adriana Rodriguez, a senior art major, created an installation in her locker that asks the public to search for mushrooms using a flashlight.
"Basically, I wanted to make people feel like they are on the hunt for mushrooms," she said. "I wanted the piece to be interactive and fun, so you literally take these flashlights and search around for mushrooms in the locker. This gives you the opportunity to be a part of the art, rather than just looking at it."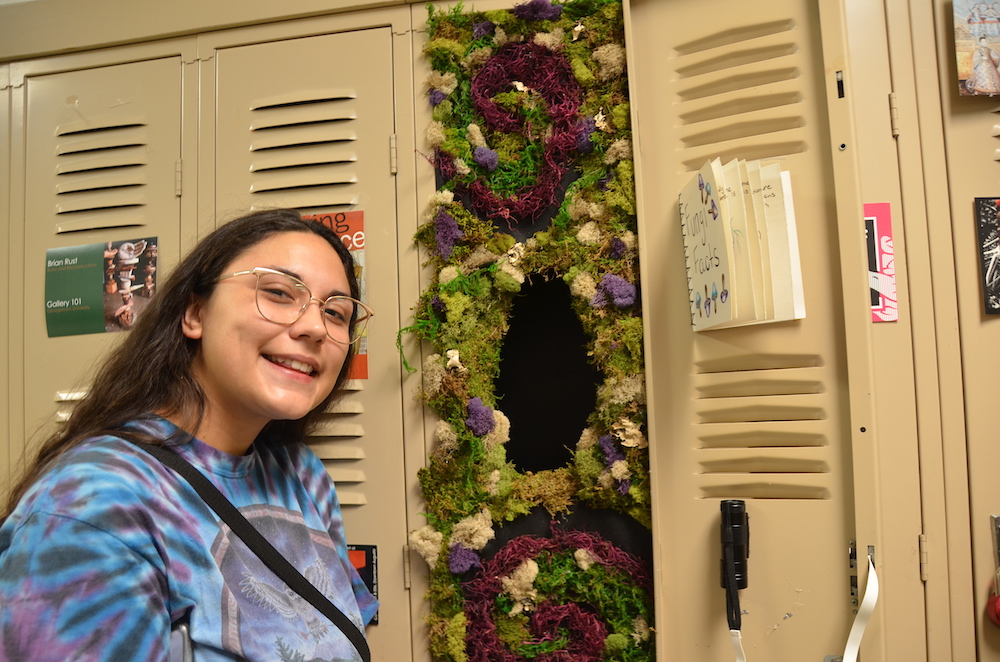 The locker project is a good first step for students to test their ideas about public art, Rust said.
"The lockers are always fun projects because students can be really playful and whimsical," he said. "And there are so many associations with lockers from kindergarten through 12th grade. I also like having a project where the audience is their peers and it is right in their environment."
A world of experience
The work of senior sculpture major Nastassja Heim, whose installation included three lockers in Washington Hall, was selected as the best piece by assistant professor Marianna Williams of the Department of Art and Design.
"I used three lockers because I wanted to do something with a narrative or sequential art," Heim said. "I wanted to play around with the composition by starting out with black and white, leading to grays intermeshing and then to color. I named the piece, Foundation, Framework and Facade. It's basically building up from a foundational image or basic shapes and simple forms to more complex forms."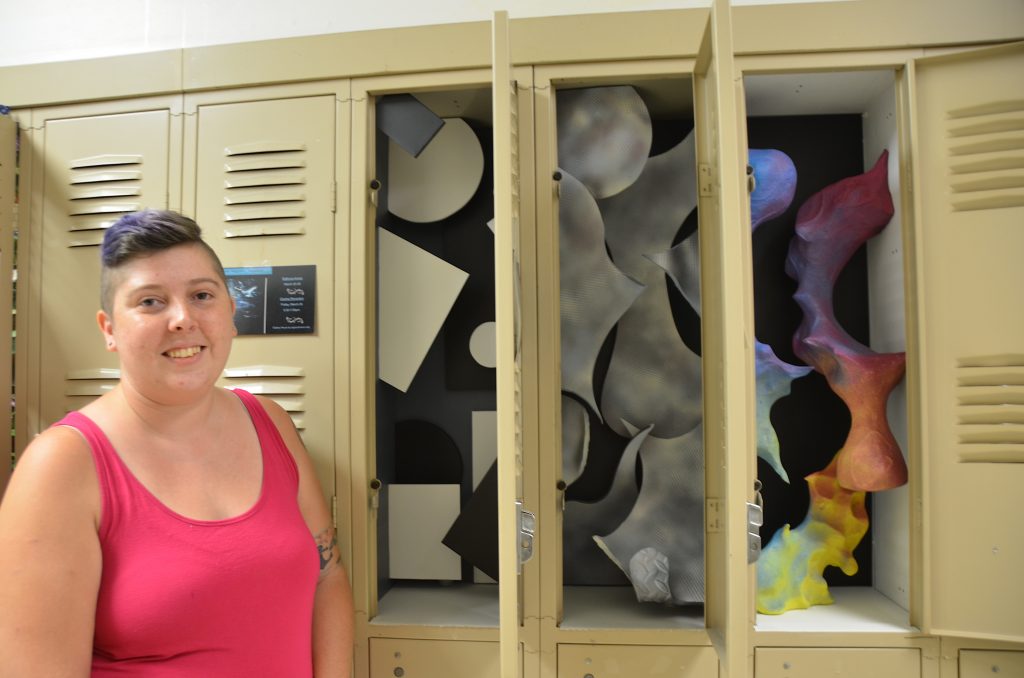 Heim has already had some experience with public art.
Earlier this year, she volunteered to help Rust as he built his 50-foot-long sculpture called Stone Boat along the Augusta Canal.
The sculpture, which is made of large granite stones, was inspired by the Petersburg boats that were once used as cargo vessels along the Augusta Canal to deliver cotton and farm goods. Two modern-day Petersburg boats are now used by the Augusta Canal National Heritage Area for guided tours along the canal.
Several of the art students said it's a wonderful opportunity to take Rust's installation class because he is an artist known for his large-scale, site-specific sculptures throughout the country.
Rust has developed several site-specific sculptures in public areas throughout the country, including the Henry Lay Sculpture Park in Louisiana, Missouri; the South Carolina Botanical Garden in Clemson, South Carolina; Stone Quarry Hill Art Park in Cazenovia, New York; and the Mid-Columbia Arts Center in Kennewick, Washington.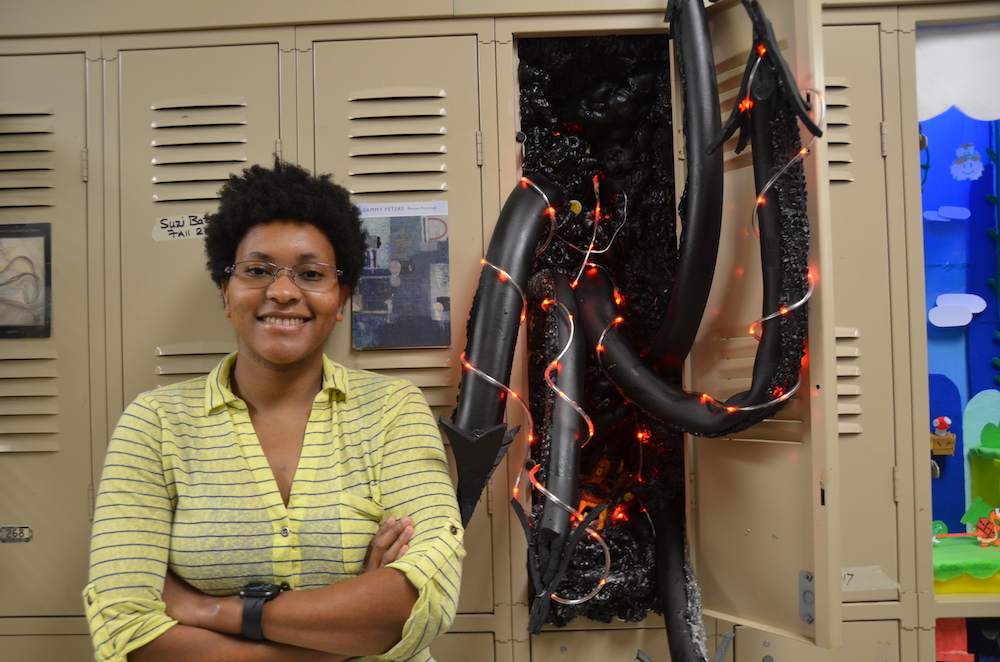 "It's pretty cool because he's done so many different things," said Ashley McDaniel, a senior art major with a concentration in sculpture and ceramics. "I had him for ceramics before and other sculpture classes, and you learn a lot in his classes."
Currently, Rust has a collection of ceramic sculptures and mixed-media drawings called Out of History in a solo show that is on view in the Whitaker Gallery at Hood College in Frederick, Maryland, through Oct. 20.
These sculptures at the Whitaker Gallery were inspired by his recent study abroad trips with Augusta University students to Greece and Spain.
During these trips, Rust visited historical ruins and museums with artifacts from ancient Mycenaean, Minoan, Greek and Roman cultures.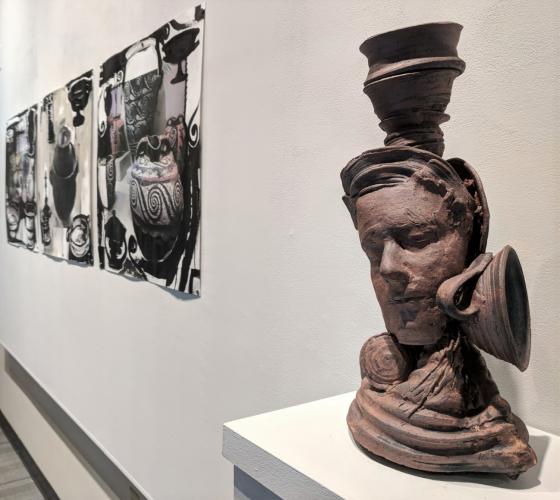 Many of the works in the Maryland show are self-portraits or depictions of his children, whose faces he has archived using plaster molds over the past 20 years, Rust explained.
"I am excited with this body of work as it brings together several things close to my heart: material, family and travel," Rust said. "First, the sculptures are all clay, a medium I have worked in since I was 13. Second, the face images are of my daughters. They have liked having molds made of their faces over the years, and I have used them as press molds to add to the clay wheel thrown elements.
"Lastly, this series is based on my travels in Greece with Augusta University's study abroad over the years. They are directly inspired by Greek vessels, sculpture fragments and ancient ruins."
Connecting to the public through art
Connor Owen, a senior art major, said she jumped at the chance to take Rust's installation class this semester.
"I am very intentionally taking installation because I have an installation project coming up at a gallery in downtown Augusta in a couple of months," Owen said, explaining that she was recently named a window project winner at the Jessye Norman School of Arts. "This installation class happens every other fall semester. He doesn't always do it, so this was my opportunity to take the class and do art on a bigger scale that people can interact with."
Owen said she likes the idea of people wanting to connect to a piece of public art.
"Even though I am more trained at painting and drawing, I prefer to make art that people are interested in and that they want to touch," she said. "I am really passionate about interactive art because people will admit, when they go to art galleries, the first thing they want to do is touch everything, but they can't because we are taught not to."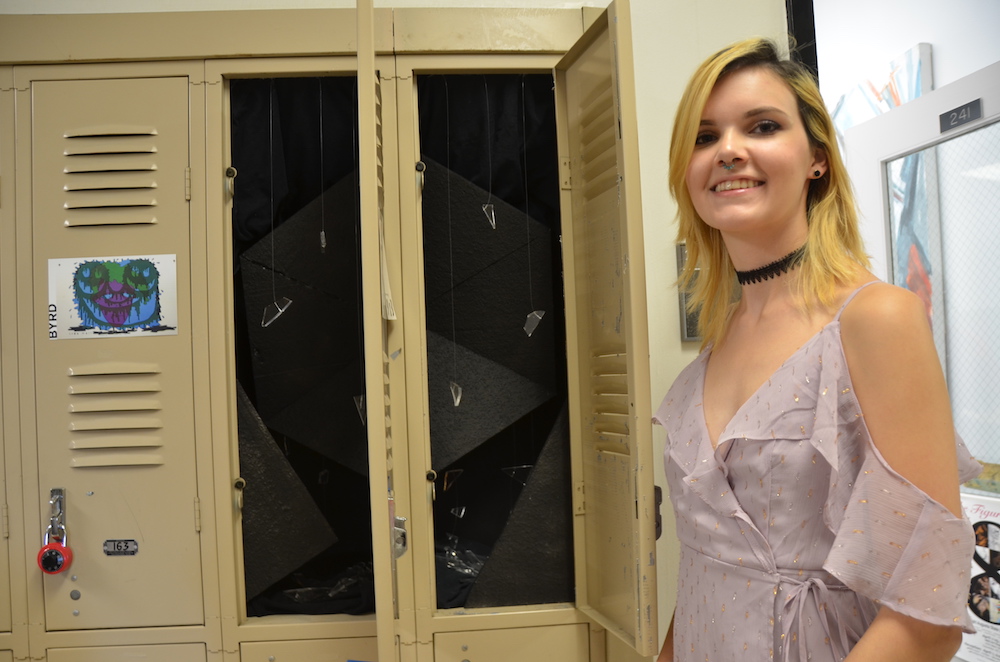 Public art changes that concept, she said.
"So, for my locker that I called The Void Stares Back I used material that looks like glass, but it's not," Owen said, as she touched one of the shards of glass that was actually a clear, rubbery material. "I'm embracing the fact that people are going to touch my locker. And I am hoping that they will go to touch the glass and be really surprised. It's like the shattering of the void and the illusion is broken."
And by the time the installations in the lockers are taken down later this month, Owen said she expects her piece will look completely different.
"I fully expect to come back and half of my shattered glass pieces will be gone," Owen said, laughing. "And that's OK. That's all part of the artistic process."