In light of the move to online classes, Augusta University has been focusing on ways to virtually connect students to the campus community. After launching a virtual student resources site and hosting several online events, staff members have launched something a bit more personal: a calling campaign to check in on students.
The calls will center around each student's transition to virtual learning, with special emphasis placed on the university's support resources.
The calls will begin on Tuesday, April 21, and go out to the entire undergraduate population. This initiative is a continuation of the existing "Jags Care" campaign.
Fifty-seven members of the university community volunteered to be callers, representing departments such as the Registrar's Office, Career Services, and Student Life and Engagement. Each volunteer will call about 25 students a day, with the campaign concluding Friday, April 24.
Volunteers even include students. LeDarius Scott, a first-semester MPA student and former undergraduate SGA president, is volunteering because he values public service.
"I am going through a challenging time right now with graduate school, but I recognize the call to action to support my fellow students. We have to encourage one another if we expect to get through this."
Scott continued, "In order to be successful, students need a conducive and supportive environment. But the reality is that for many students — including myself — home is not always the most supportive environment. So what we need right now is compassion and grace."
Suzanne Samford Tatum, assistant vice president of Protocol and Special Events, chose to volunteer to uphold the mission of her unit.
"As a support unit, we have two priorities that align with President Keel's priorities: our students and our patients," she said. "This means that we will step up at all times to do whatever we can to ensure student success."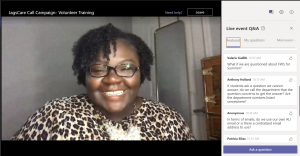 Dr. Patrice Jackson, assistant vice president of Student Affairs, says the goal of the campaign is twofold.
"Our first goal is to let our students know we care and that we're thinking about them. None of us ever expected to be working without them on campus, so we miss them," Jackson said. "Our second goal is to get our students connected to resources."
The Dean of Students' Office will follow up with any students who indicate they need extra support.
Email to learn more about the campaign.