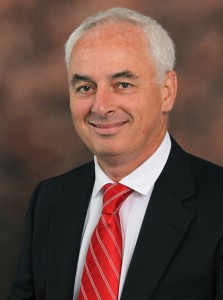 Dr. Peter F. Buckley, dean of the Medical College of Georgia at Georgia Regents University, received the Medical Trailblazer Award from the Augusta City Classic at the organization's annual banquet and Hall of Fame Induction on Thursday, Oct. 8. Buckley was recognized for his leadership of the state's medical school and his interim leadership of its teaching hospitals.
Buckley became the 26th dean of MCG in 2011. A psychiatrist and expert in schizophrenia, he also is a professor of psychiatry, pharmacology and radiology. He also serves as the interim executive vice president for health affairs at Georgia Regents University and as interim CEO of Georgia Regents Medical Center and Georgia Regents Medical Associates.
Buckley joined the faculty in 2000 as chair of the Department of Psychiatry and Health Behavior. From 2007-10, he also served as associate dean and then as senior associate dean for leadership development in the medical school.
Buckley co-chairs the Georgia Mental Health and Physical Integrations Task Force for the Atlanta-based Carter Center. As part of the American Psychiatric Association Workgroup on the Role of Psychiatry in Healthcare Reform, he helped explore the interface of mental and physical health from the perspective of major changes in health care policies.
His international leadership roles include serving on the Administrative Board of the Council of Deans of the Association of the American Medical Colleges and as chair of the council's Fellowship Committee.  He is former chair of the National Institute of Mental Health Special Emphasis Panel on Early Psychosis Intervention and is a member of the institute's Data and Safety Monitoring Board Committee. Buckley is a member of the Psychiatry Maintenance of Certification Committee of the American Board of Psychiatry and Neurology and the American Psychiatric Association Committee on Research Awards and Membership Committee.
He has published more than 430 original articles, book chapters and abstracts. He has also authored or edited 13 books on schizophrenia and related topics in psychiatry, is editor of the journal Clinical Schizophrenia & Related Psychoses, and was the inaugural editor of the Journal of Dual Diagnosis. Buckley's research predominantly focuses on the neurobiology and treatment of schizophrenia, including current studies on the genetics of schizophrenia and on the psychopharmacology of relapse in schizophrenia. He has also conducted research on patient- and family-centered care and on the development of academic leadership.
The Augusta City Classic aims to motivate area youth by staging its annual football game and battle of the bands between two historically black colleges and universities. The annual game has become one of Augusta's largest community events and has raised more than $2 million for scholarships.