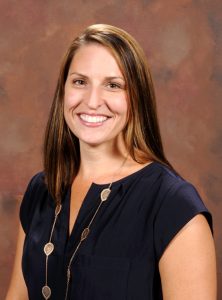 Dr. Kelli Braun, associate professor in the Department of Obstetrics and Gynecology at the Medical College of Georgia at Augusta University, has been named associate dean of admissions for the medical school. Braun, a 2004 MCG graduate, had been serving as interim associate dean since July.
"She has a clear vision for advancing the Office of Admissions to enable matriculation of the best possible class of students to meet the needs of the university, the state and beyond," said Dr. Paul Wallach, MCG vice dean for academic affairs and Charbonnier Endowed Chair in Medicine. "Dr. Braun has proven leadership ability in clinical medicine, research and education."
"As a graduate of MCG, I am excited about contributing to the future of medical care in Georgia by recruiting the very best possible class for MCG," Braun said.
A Georgia native, Braun joined the faculty in 2008 after completing her obstetrics and gynecology residency at MCG and AU Health. While maintaining a busy clinical practice, she has also focused on undergraduate and graduate medical education. She is the director of simulation training and virtual education for the OB/GYN residency program and is known nationally for her curriculum design and low-fidelity modeling for surgical education. She has also served the department as associate clerkship director for medical student education.
She served as the physician faculty lead in preparation for MCG's recent Liaison Committee on Medical Education site visit, which resulted in full eight-year accreditation. She has been director of the educational research track for the Education Innovation Institute's Educational Research Fellowship and is principal investigator for the TRUST Study, sponsored by HALT Medical Inc., a nationwide clinical trial comparing the relative cost, benefits and complications of three minimally invasive techniques for reducing or eliminating symptomatic uterine fibroids.