During Alumni Weekend 2021, the College of Science and Mathematics welcomed Dr. Monica Adams, a 1998 Bachelor of Science in Chemistry graduate, who returned to Augusta to be honored as the college's Distinguished Alumna.
While on campus, she presented a talk titled "My Career Journey in Drug Product Development" to students and faculty on Friday afternoon, Oct. 22.
In her presentation, Adams described her journey since leaving the university to her current position as global head of BioPharm Product Sciences and Device Engineering at GlaxoSmithKline (GSK) Pharma GmbH, located in Collegeville, Pennsylvania (United States) and Hertfordshire, Ware (United Kingdom). 
In addition, her presentation introduced her audience to the multidisciplinary field of drug product development. Along the way, the audience gained insight into the wide-spanning and impactful world of drug product development, testing, review and approval, and finally delivery to patients. She concluded her presentation with lessons learned from her own life experiences and offered advice to students.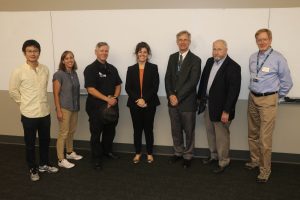 About Dr. Monica Adams
Before becoming global head of a division at an internationally known company, Adams started her college education in 1993 at what was formerly known as Augusta College. By her graduation in 1998, the campus would be known as Augusta State University (ASU).
When she entered college, Adams was focused on pursuing a career in health care and majored in biology. She later changed her major to chemistry in 1995 and kept biology as a minor.
"I had not really had exposure to chemistry before, but what I found exciting about chemistry is that you could really take a few simple first principles and answer a lot of questions from a more fundamental basis," she said. "That was really intriguing, and I saw that there were lots of practical applications. It just was a very useful field and very interesting."
As a chemistry major, Adams obtained a student membership with the American Chemical Society through her association with the Chemistry Club and began reading issues of Chemical and Engineering News. One of the news articles she found proved pivotal in her gravitation toward drug development. The article was about researchers modifying gold microparticles, thereby changing their distribution in a mouse.
"That was really fascinating to me that you could alter the fate of a molecule," she explained. "I never really thought about how a molecule gets from its raw state to where it needs to be as a medicine for the body, and there is an entire discipline focused on that."
However, then-Augusta College was focused on teaching and not research, so the support for what Adams wanted to do was limited. Nevertheless, Adams obtained her first research experience with Dr. Cathy Cobb, a former associate professor of chemistry at the college. In 1997, Adams broadened her research experience as a lab technician in one of the vascular biology labs at the Medical College of Georgia.
Later in 2013, Adams was pleasantly surprised to learn that the institution she attended as a student (ASU) and the other where she worked (MCG) had been consolidated into one university.
Now back on campus for the first time in many years, she has witnessed firsthand the astonishing growth of the university since her graduation. Her memories of her alma mater, which featured the old "six pack" — six small classroom buildings fashioned out of converted warehouse — have now been replaced by two decades' worth of new academic buildings on both the Summerville and Health Sciences campuses.
Juxtaposed against Adams' recollection of the small one-story science building in which she studied as an undergraduate is the new four-story College of Science and Mathematics Building, adjacent to the J. Harold Harrison, M.D. Education Commons and across a beautiful green space from the Dental College of Georgia on the Health Sciences Campus.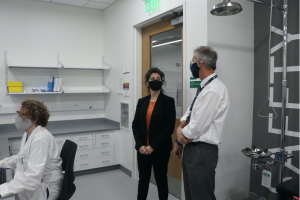 "I'm really thrilled to be back here. It's very different than when I left, so I'm excited to see all the progress and the energy," Adams said. "When I was coming through, there really wasn't a lot of interdisciplinary work. It's great seeing that now there are more opportunities for students to have some specialties."
Building a career in drug development
Adams left Augusta upon graduation from ASU in 1998 and was enrolled in a PhD program in pharmaceutical sciences at the University of Wisconsin-Madison. Her research there focused on polymeric micelles for drug delivery. In addition to being a PhD student, she was a teaching assistant, intern with Pfizer and researcher at NanoCarrier in Japan.
Upon completing her program, she worked in drug product development across conventional and novel modalities at different companies, including Bristol-Myers Squibb – a company she worked at for over 15 years – Janssen, and several others.  She was a member of the BioPhorum Operations Group industry consortium for several years and issued a key industry position paper.
As her career progressed, she entered a new field, working on oral products at the discovery interface, from the initial active pharmaceutical ingredient interface and, through early trials, later into chemistry, manufacturing, and control (CMC) leadership. She stated that she "was responsible in a matrix sense for the active substance, the analytical, the manufacturing, and the product development for several small and large molecules."
In 2019, Adams became the global leader of a division at GSK. Her team supports subcutaneous, intravenous, intermuscular and inhalation products for traditional biologics, small molecules, and novel modalities across the GSK enterprise for all markets.
"I joined GSK to get additional experience in the device interface because I think drug-device combination products are actually pretty important for the future," she said.
A typical day at her current position is hectic; Adams moves a lot between projects and topics in a fast-paced environment. She oversees everything from technical elements to strategic pieces, relationships with third parties, and collaboration with mechanical engineers.
"It's multidisciplinary," she added. "You work at the interface of many disciplines, organizations, et cetera, to essentially take what is a molecule and turn that into a usable medicine."
She leads a division of scientists and engineers focused on end-to-end biologics drug product development and modality-agonist device development across the complete GSK enterprise of small molecules, biologics and vaccines.
She is also a board member of the Subcutaneous (SC) Drug Development and Delivery Consortium which aims to transform patient care and improve outcomes through leading fundamental advancements in SC drug development and delivery by collaborating precompetitively across the industry on the most pressing issues and opportunities in SC dosage and delivery.
"I have to learn quickly to be able to work within and across complex technical and functional lines. On a daily basis, I navigate everything from from the technical pieces to strategic elements, people management, sometimes finance, and even project-specific elements."
Even with a high level of stress, Adams draws enthusiasm from her experiences, and explained that she has been able to work with fantastic people, using skills from various disciplines. She developed a skillset, over time, as she followed her interests and strengths. She finds making a meaningful impact on people's lives the most valuable part of her career.
"Drug product development is expansive; it's engaging; it's exciting; it's innovative," she said.
Reflecting on the past
With her career in full bloom, Adams reflected on the roots of her success: the faculty whose mentorship was meaningful to her while attending ASU. Whether conducting research with Cobb, winning the ASU Homecoming banner competition with the Chemistry Club, or going on a graduate program tour at Georgia Tech with Dr. Gary Stroebel, Adams was fond of her experience as an undergraduate student. It was a time of learning, growth and exploration.
She remembered a particular assignment from Dr. Stephanie Myers, professor of chemistry and her teacher for an instrumental analysis course. Myers brought everyone in the class a sealed jar of jelly beans and tasked everyone to estimate how many beans were in the jar without opening it.
Adams recounted the value of the exercise. "The point is there's information you can't know. Now, considering you cannot know certain information, how do you go about interrogating a particular question and providing an answer and understanding its limitations?" said Adams. She noted this is a real-life scenario that happens again and again in the sciences.
Dr. Thomas Crute, professor of chemistry and now chair of the Department of Chemistry and Physics, was also Adams' teacher for a general chemistry course and two organic courses. They both came to Augusta College around the same time. He was thrilled to welcome her back and see the interest of those who gathered to hear the presentation by his former student.
He noted that Adams serves as a valuable and inspiring role model for students, and that he feels proud to have gone from teaching her as an undergraduate to seeing her as an accomplished professional.
"Even early in her years as a student it was clear that Monica was academically strong and highly motivated," he said. "As I have followed her career path, it was no surprise that she would achieve so much, and have such a positive impact on society."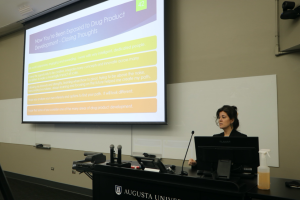 Advice to new students
Adams expressed enormous appreciation for the faculty at Augusta, who helped her grow and learn as a student. During her presentation, it was Adams' turn to help students navigate their careers. Her most significant piece of advice to students was to create their own path and be ready to pivot as the landscape changes and if attractive new opportunities beckon.
"I was able to follow my interests and strengths; I learned when to pivot," she said. "Transcending boundaries has been very helpful for me as well as always learning and focusing on the future."
She encouraged students to explore their interests to capitalize on opportunities both during and after college, without the fear of taking risks. While in college, she said, students should use the opportunity to take courses in many disciplines and be open-minded, because there are things to learn from that they may not be aware of.
"Take those opportunities to learn and start developing those thinking and interrogation skills while you're here," she said. "Analyzing problems and drawing a proper conclusion is very important, and being able to communicate that conclusion has been extremely helpful to me."
Lastly, Adams encouraged students to adapt but not derail in the rapidly changing world. Students will experience paradigms that will change, as the cultural, geopolitical, regulatory and technology environment is dynamic.
"Don't forget that changing events and conditions can cause a lot of doubt, getting you demotivated. They can be stressful, but what you will have to do, really, is find a way to overcome it," she said. "Find a way to get your motivation back, restore your sense of direction, and take control."