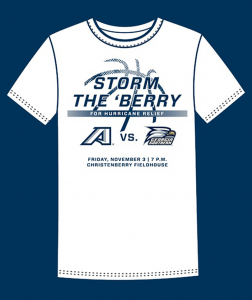 The Augusta University men's basketball team will host the 'Storm the 'Berry' exhibition game against Georgia Southern on Friday, Nov. 3 at 7:00 p.m. in Christenberry Fieldhouse to raise money and support for hurricane relief.
The effort comes from the NCAA and the National Association of Basketball Coaches (NABC) to support areas around the globe that were affected by the recent hurricanes. The NCAA allowed schools to apply for a waiver for a special additional exhibition contest that benefits relief efforts!
"Jaguar Nation is a caring community," said Augusta University President Brooks Keel. "I was so proud of the way we came together to assist those who sought shelter in Augusta during the threat from hurricane Irma. We have another opportunity on November 3 to come together to further assist those who need our help, and at the same time support our outstanding men's basketball team. We look forward to hosting the Eagles for a game where hurricane victims will be the winners!"
General admission is $10 and all funds will be donated to the American Red Cross. AU and Georgia Southern students are free of charge with a valid university ID, while non-Augusta and Georgia Southern students, senior citizens, and military are $5 at the main entrance. Children six and under are free of charge.
"It will be a great opportunity for our players, fans and community to embrace the Hurricane Relief efforts by playing Georgia Southern at the 'Berry," head coach Dip Metress said. "Georgia Southern is picked to win their league by many people and feature a very experienced and talented team. By playing back-to-back games with Clemson and Georgia Southern, hopefully it will prepare us for opening weekend on November ninth and 10 at Barton."
There will be 'Storm the 'Berry' Adidas t-shirts on sale at the game, with all proceeds also going to the American Red Cross.
AUGUSTA vs. GEORGIA SOUTHERN – MEN'S BASKETBALL
Friday, November 3rd, 2017 @ 7:00 p.m.
Christenberry Fieldhouse – 3109 Wrightsboro Road, Augusta, Ga., 30909
Exhibition basketball game between AU & GSU

General Admission: $10
Non-AU/GSU students, senior citizens, & military: $5
AU/GSU students: Free
Children six and under free
AMERICAN RED CROSS RESPONSE TO IRMA
Georgia
One week after severe weather from Hurricane Irma began, the Red Cross in Georgia and its partners have:
Served more than 90,594meals and 226,390
Provided more than 20,368overnight stays to 6,627 people in 45 evacuation centers.
Mobilized 813trained Red Cross disaster workers to support severe weather relief efforts.
Distributed 1,315cleanup kits, 8,313 comfort kits and 22,737 bulk items
Augusta/CSRA
One week after severe weather from Hurricane Irma began, the Red Cross in Augusta, Georgia and its partners have:
Provided more than 8,295overnight stays to 2,765 people in 16 evacuation centers.
Served more than 17,907meals and 24,855
Mobilized over 160volunteers (approximately 110 local and 50 deployed in from all over US)
Provided 120+"Just in Time" shelter volunteer trainings to new volunteers in Richmond and Columbia Counties.
Distributed over 2,400cots, blankets, towels, and comfort kits.
Buy an offical 'Storm the 'Berry' Adidas T-shirt the day of the game!