The Bank of America Charitable Foundation presented a $250,000 grant to Augusta University today in support of the new Science and Mathematics building on the Health Sciences Campus, endorsing the university as a driver of workforce development and education that enables economic mobility and community revitalization.
"As a pillar of our community, Augusta University is enriching the lives of students and residents throughout the region and beyond," said Ora Parish, President of Bank of America Augusta / Aiken. "We look forward to seeing how our latest partnership with the University advances workforce development and economic opportunity in Augusta for years to come."
"We are grateful for Bank of America's generous support of the College of Science and Mathematics, as well as its investment in the continuing growth of Augusta University and Augusta as a whole," said President Brooks A. Keel. "We set an aggressive goal to grow enrollment to 16,000 students by the year 2030 and moving the College of Science and Mathematics from Summerville to the Health Sciences Campus is a major step in boosting our undergraduate programs as we work to achieve this goal. Thank you to Bank of America for your support and endorsement."
Augusta University currently enrolls more than 9,000 students and boasts a state economic impact of more than $2.6 billion. About 25% of its undergraduate students are concentrated in science and mathematics. When the $74 million facility opens on the Health Sciences Campus in August, it will provide 125,000-square-feet of state-of-the-art space for the College of Science and Mathematics to expand both academic and research opportunities including new collaborations in the health sciences disciplines.
"We greatly appreciate the support from Bank of America in advancing our educational and research missions," said College of Science and Mathematics Dean John Sutherland. "Our new teaching laboratories and our proximity to the research laboratories, seminars, and other activities of faculty and students in the other colleges on the Health Sciences Campus will be valuable for all our students, particularly to those interested in careers in health care professions or research. In addition to expanding opportunities for our undergraduate students to engage in research and to shadow health care professionals, the location of our new building facilitates participation by our graduate students and faculty in interdisciplinary research initiatives."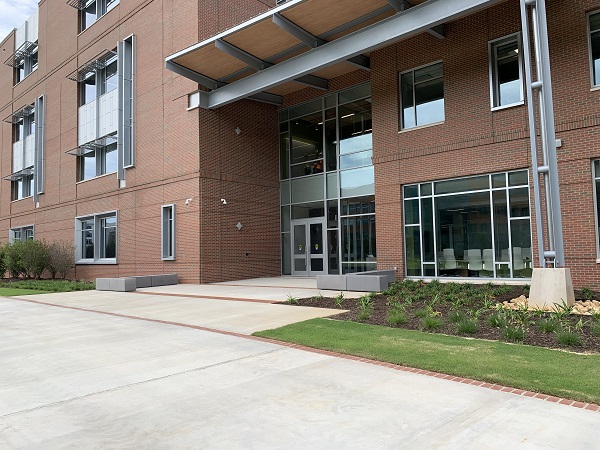 Bank of America will be recognized by the naming of the new Bank of America Plaza immediately outside the Science and Mathematics building's main entrance, where students have space and seating to gather outdoors for study or activities.
"Bank of America has supported our legacy institutions at Augusta University for more than 40 years," said Deborah S. Vaughn, vice president of Philanthropy & Alumni Engagement for Augusta University. "We are incredibly honored to receive this notable support. This is not just an investment in a building or a school; Bank of America is impacting the future for thousands of students, faculty and staff who will learn and grow in this new space."
The Science and Mathematics Building will be fully operational for classes and research when the fall academic semester begins Aug. 11.
A grand opening and ribbon-cutting event is slated for 4:30-6:30 p.m. Thursday, Sept. 30 in the shared green space adjoining the Bank of America Plaza.
About Augusta University
Augusta University is Georgia's innovation center for education and health care, training the next generation of innovators, leaders and healthcare providers in classrooms and clinics on four campuses in Augusta and locations across the state. More than 9,000 students choose Augusta for educational opportunities at the center of Georgia's new cybersecurity hub, and experiential learning that blends arts and application, humanities and the health sciences. Augusta is home to Georgia's only public academic health center, where groundbreaking research is creating a healthier, more prosperous Georgia and world-class clinicians are bringing the medicine of tomorrow to patient care today.
About Bank of America
At Bank of America, we're guided by a common purpose to help make financial lives better, through the power of every connection. We're delivering on this through responsible growth with a focus on our environmental, social and governance (ESG) leadership. ESG is embedded across our eight lines of business and reflects how we help fuel the global economy, build trust and credibility, and represent a company that people want to work for, invest in and do business with. It's demonstrated in the inclusive and supportive workplace we create for our employees, the responsible products and services we offer our clients, and the impact we make around the world in helping local economies thrive. An important part of this work is forming strong partnerships with nonprofits and advocacy groups, such as community, consumer and environmental organizations, to bring together our collective networks and expertise to achieve greater impact. Learn more at about.bankofamerica.com, and connect with us on Twitter (@BofA_News).
For more Bank of America news, including dividend announcements and other important information, visit the Bank of America newsroom and register for news email alerts.
Follow the project and find out how you can help support the next step in AU's growth.