Dr. Babak Baban has been named the associate dean for research for The Dental College of Georgia at Augusta University effective Aug. 1, 2020. He has been serving as the DCG interim associate dean since October 2018. In this role, he will continue to be responsible for advancing the DCG research mission.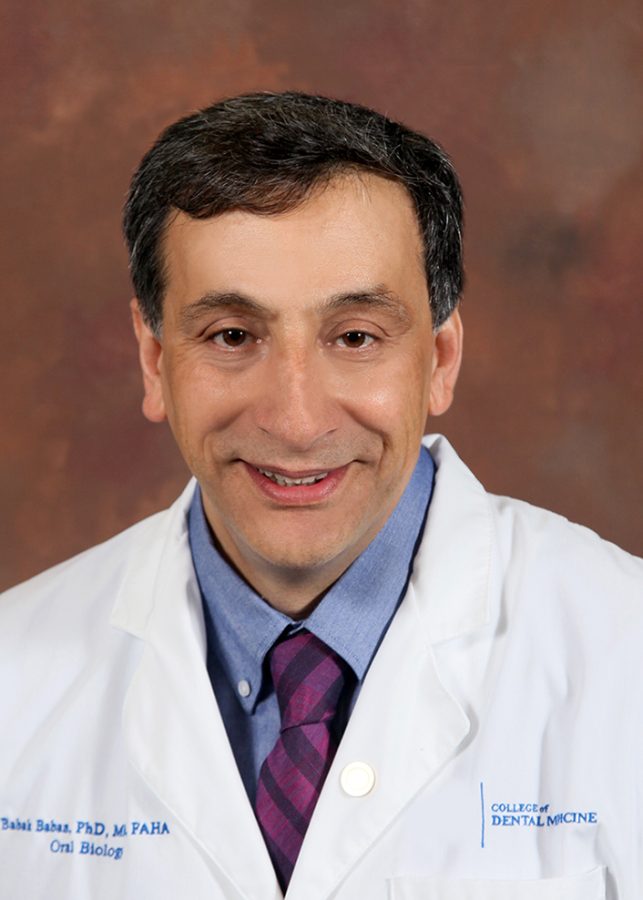 Baban earned his doctorate in Microbiology/Bacteriology from the University of London in the U.K., completed a postdoctoral fellowship in Molecular Immunology with the Medical College of Georgia and earned both an MBA and a MPH from AU. He joined DCG as a full-time faculty member in 2010 in the Department of Oral Biology, was awarded tenure in 2015 and was promoted to professor July 1, 2020.
Prior to his DCG faculty appointment, he served as an assistant research scientist in the AU Vascular Biology Center and the Immunotherapy Center with the Georgia Cancer Center. Baban has been principal investigator or co-investigator on 21 grants exceeding $20 million in funding since 2010. He has published more than 100 peer-reviewed articles, presented at dozens of national and international research conferences and has served on several international study sections and editorial review boards.
He is a professor of Immunology in the Department of Oral Biology and Diagnostic Sciences with joint appointments in the MCG Departments of Surgery and Neurology and The Graduate School. He has teaching responsibilities in several biomedical courses and been active on many DCG committees including Student Academic Review, Curriculum Task Force, Admissions and Recruitment, Research Advisory and the DCG Faculty Senate Steering Committee. AU committee service includes Research Technology Advisory, Institutional Biosafety, University Curriculum and Academic Policies, and as an Intramural Grant Reviewer. Nationally, Baban has served on the National Dental Board Examination Committee, on American Heart Association Study Sections and as a Council on Dental Accreditation Site Visitor.
Baban is a member of several professional associations including the American Association for Cancer Research, American Dental Association, American Heart Association, American and International Associations for Dental Research, and the International Cannabinoid Research Society. He is a Member of the Phi Kappa Phi Honor Society and Omicron Kappa Upsilon, the National Dental Honor Society.