Augusta University women's golf coach Caroline Haase-Hegg knew her team would look dramatically different in the spring compared to the fall season, but she kept pushing her players to focus on developing their games.
The Jaguars played in four strong fields in the fall to open the 2022-23 season, but Haase-Hegg and her squad weren't getting the overall results they expected. They were averaging 305.6 strokes as a team, with a low round of 291 in the final round of the Hurricane Invitational hosted by the University of Miami, the final tournament of the fall.
As the spring season approached, they added two freshmen to their roster, Mirabel Ting and Victoria Zheng, and the results and confidence quickly started to blossom. Through their first five spring matches, the Jaguars are shooting 293.1 as a team and finished second at the Ford Invitational, the Valspar Augusta Invitational (their home event) and the Florida State Matchup. They also finished eighth in the Vystar Gators Invitational.
"I knew that adding Mirabel was going to be a difference maker to our lineup. To have someone that can compete to win tournaments week in and week out, it's been good for her teammates. It gives them confidence because when you have more firepower in your lineup, you can play aggressive-offensive minded golf," said Haase-Hegg, who is in her eighth year at AU.
Ting made her impact immediately, winning her first event at the Moon Golf Invitational on Feb. 20-21 in Melbourne, Florida. She shot 13-under par (68-67-68) to finish tied for first with Michigan State's Leila Raines, who Ting then beat with a 54-foot putt in a playoff to earn the title.
It's the second consecutive year one of Haase-Hegg's golfers won their first tournament.
"I've known what kind of player Mirabel is for well over a year now, and to be perfectly honest, I was just thrilled that she teed it up on the first hole and finally was representing Augusta University in a competition," she said. "Sometimes winning your first tournament can also shake up your expectations and put a lot of pressure on you, but Mirabel is incredibly talented, a hard worker and a great kid."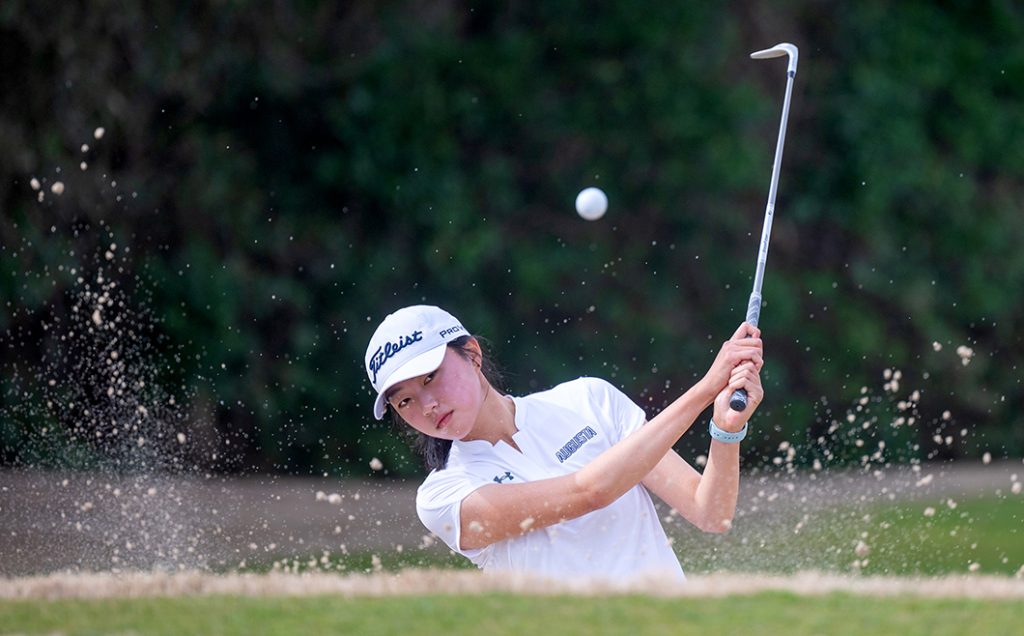 Haase-Hegg signed Zheng in late August but knew just from her résumé that she was going to bring a polished and developed game with her. Since joining the Jaguars, Zheng's work ethic has impressed everyone on the team.
"Victoria's a very hard worker, very independent and kind of marches to her own drum, but she has done a great job, and I'm really proud of what those two have already done to help our team," said Haase-Hegg, who noted she has just one senior compared with two sophomores and four freshmen on the team.
The squad as a whole has stepped in, especially in their past two matches. Daniela Burgos played as an individual in the Valspar and finished tied for third after shooting 72-67. In the Florida State event, she finished 12th after carding 77-72-73.
Despite two of the events being shortened to 36 holes because of inclement weather, Haase-Hegg knew the importance of getting rounds of golf in for her team. They added the Ford Invitational to February's schedule in December, and she said just getting competition rounds under their belts would benefit the team mentally and competitively.
The early events helped them in the spring as they beat three teams ranked in the top 50 at Florida, six in their home event and two more at Florida State.
At the Jaguars' home tournament, Kennedy Carroll finished tied for ninth (69-73); Chiara Sola tied for 22nd (76-70); and Napabhach Boon-In shot 69-77. At the Florida State Matchup, Carroll finished tied for 25th (75-77-78); Sola finished tied for 38th (84-72-78); and Boon-In finished 15th with a 75-76-75. Ting has finished tied for 14th and seventh since her first victory. Petra Duran has played in six tournaments and placed 73rd as an individual at the Valspar.
"I'm really proud of the girls because everyone on our team has improved, if you compare our stroke averages from the fall to our spring. There's been remarkable improvement across the board," Haase-Hegg said. "That's a testament to their work and the effort that they've put into it."
Haase-Hegg knew her team was frustrated when their effort and the end results didn't match up. She reminded them how key patience is and to give themselves grace to help maintain a positive attitude.
"Part of life in general, much like in golf, is fighting through adversity and committing to doing the right things, even if it's not quite paying off yet. And our team's a testament to that," she said.
The Jaguars will play April 2-4 in the Chattanooga Classic in Chattanooga, Tennessee, before playing April 17-19 in the Southland Conference Championship in Frisco, Texas.