Augusta University student leaders are making a name for themselves: The Influencers. This inaugural group of 22 diverse participants, who lead on and off campus, debuted at the student leadership banquet April 20. Student Life and Engagement Director ShaRon Dukes, EdD, says it was the perfect backdrop for the newly gelled team.
"Since our first meeting, the student leaders have been a pleasure to work with. They have taken the initiative to start a group chat and use it as a tool to celebrate with each other and keep in touch. It is wonderful to see them bond as AU student leaders," said Dukes.
"Our office gave each student a journal at the start of the program. I wrote a personal message to each student before handing the journals out. Without request, they bring them to leadership sessions. One said that he reads the message every day for encouragement."
The Augusta Influencers is a student leadership program within SLE, where students serving in leadership roles sharpen skills, participate in engaging activities and make lasting memories with a group of their peers. The program aims to retain students by increasing their sense of belonging to the campus community.
Additionally, it guides students through interactive lectures and workshops designed to offer knowledge and practical experience so they may become influential leaders. Through a uniquely designed leadership curriculum, every cohort will pass the torch of learning and shared experiences in the spirit of creating a "rite of passage" for future members.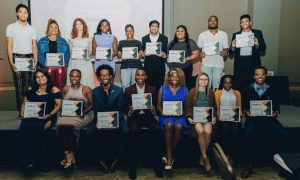 "Student leaders need a safe space with individuals who share similar experiences. These amazing Jags are balancing leadership roles, jobs, class assignments and much more. To be among counterparts with similar feelings of uncertainty and fear shows them they are not alone. It allows them to grow and be free of judgement. It also gives our staff a chance to build stronger connections with students," said Dukes.
"My favorite moment is after we have a virtual guest speaker and they immediately say, 'We need to bring them to campus!' That level of excitement shows we are doing something right. They are connecting to the lessons on a deeper level and want to continue the journey."
Current student leaders include resident assistants, members of student government and the Greek life community. Contact the Office of Student Life and Engagement to apply.