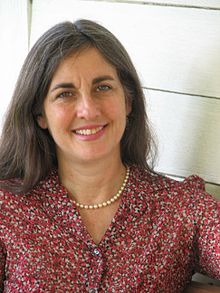 The Department of English & Foreign Languages at Augusta University welcomes award-winning author and activist Janisse Ray to campus on Wednesday, April 27, for a reading and discussion of Ray's first novel, Ecology of a Cracker Childhood.
The reading will begin at 2:30 p.m. in the JSAC Butler Room. This event is free and open to the public.
A Georgia native and avid naturalist, to date, Ray has authored five books of literary nonfiction. In 2010, she released her first collection of eco-poetry, titled A House of Branches, to critical acclaim.
Much of Ray's works focus on her life and experiences in Georgia. Her second novel, Wild Card Quilt, recounts her experiences of moving back to Georgia after college. Drifting into Darien, her fourth novel, recounts Ray's experiences with and knowledge of the Altamaha River.
Jim Minick, assistant professor of English, said Ray's writing encapsulates the beauty of clean, efficient living and highlights the far-reaching dangers of environmental neglect.
"Janisse Ray has long made an art of living in a way that does the least harm, and her incredible writing makes this story shine," Minick said. "From Ecology of a Cracker Childhood, her memoir about growing up in a South Georgia junkyard, to her most recent, The Seed Underground, about saving heirloom seeds, Janisse offers her artful words as guides, as warnings, as invitations to a better life."
In addition to campaigning on the behalf of the Altamaha River and the Moody Swamp, Ray has achieved a great deal of success in the literary world. In 2015, she was inducted into the Georgia Writers Hall of Fame, and her work has been translated and published in both France and Turkey. Currently, Ray serves as a visiting professor at numerous institutions across the country.
Her most recent appointment was to the University of Montana, where she served as William Kittredge Distinguished Visiting Writer in 2014.
For more information about this event, contact Jim Minick at jminick@augusta.edu.