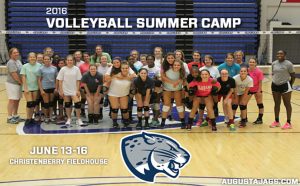 Augusta University Volleyball will host a summer volleyball camp for girls between the ages of 12 and 18 this summer. The four-day event, beginning Monday, June 13, and ending Thursday, June 16, will be held in the Christenberry Fieldhouse gymnasium from 9 a.m.-3 p.m. daily.
The camp is geared toward individual skills training and will focus on serving, passing, setting, attacking, blocking and individual defense. In addition, campers will work on team defensive and offensive systems.
Campers will be placed into groups of similar ability, and competitions will take place daily.
Sharon Quarles, head coach of the Jaguar Volleyball program and camp director, has garnered a 354-251 career record over her 19 years of professional coaching. Quarles was named Peach Belt Conference Coach of the Year in 2014 and, to date, has coached multiple teams to 20-win seasons.
Kadija Fornah, assistant coach, played four years as part of the Atlantic Coast Conference at Wake Forest University. She finished her four-year term ranking third on the program's all-time kills list. After graduating in 2012, she played volleyball professionally in Italy and recently served as coach for All American Volleyball.
Entry to the camp is $175 for non-university affiliated students, or $125 for the children of university employees. To register, print and fill out the 2016 Volleyball Summer Camp brochure here and include payment with the form.
Please make all checks payable to the ASU Foundation c/o Volleyball.
Mail to:
Augusta University Volleyball
1120 15th Street CFH 214
Augusta, Ga 30904
For more information, contact Sharon Quarles at 706-667-4766 or by email at squarles@augusta.edu.