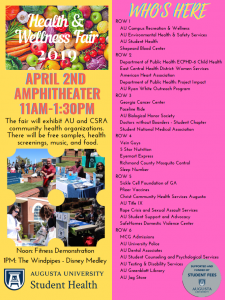 The second annual Health and Wellness Fair at Augusta University will be held Tuesday, April 2, from 11 a.m. to 1:30 p.m. at the D. Douglas Barnard Jr. Amphitheatre.
More than 30 vendors from the university and local health organizations will be on site offering free health screenings, demonstrations and samples. The event will also feature a fitness demonstration at noon and musical performances by student groups The SeroTONins at 11:30 a.m. and flute quartet The Windpipes at 1 p.m.
"We are excited about offering this health and wellness event again this year, because our goal is to encourage the entire Augusta University community to adopt healthy lifestyle choices," said Dr. Robert Dollinger, director of Student Health Services at Augusta University. "I hope those who attend will leave with increased health awareness and stay connected with the services available both at our University and in the CSRA."
This free event is being supported and funded by Augusta University student fees. For more information, contact Student Health Services at 706-721-3448.