It all flows to the Savannah River.
That's the theme for the Augusta Arts Council's latest public art project. A dozen artists used the theme to create murals on storm drains throughout downtown Augusta in April.
Three Augusta University artists participated in the beautification project: communications specialist "Fox" Si-Long Chen, who is also a Master of Public Administration (MPA) student, art instructor Cyndy Epps and student Ansleigh Davis.
Davis' mural, titled Water Is Life, is located at Reynolds Street by the Eighth Street plaza.
Chen used her love for rubber duckies to inform her mural, titled Rubber Ducky. Located on the corner of Eighth and Broad streets, her painting depicts water dripping from a shower and swirling into a stream that flows into the storm drain, carrying soap bubbles and rubber duckies with it.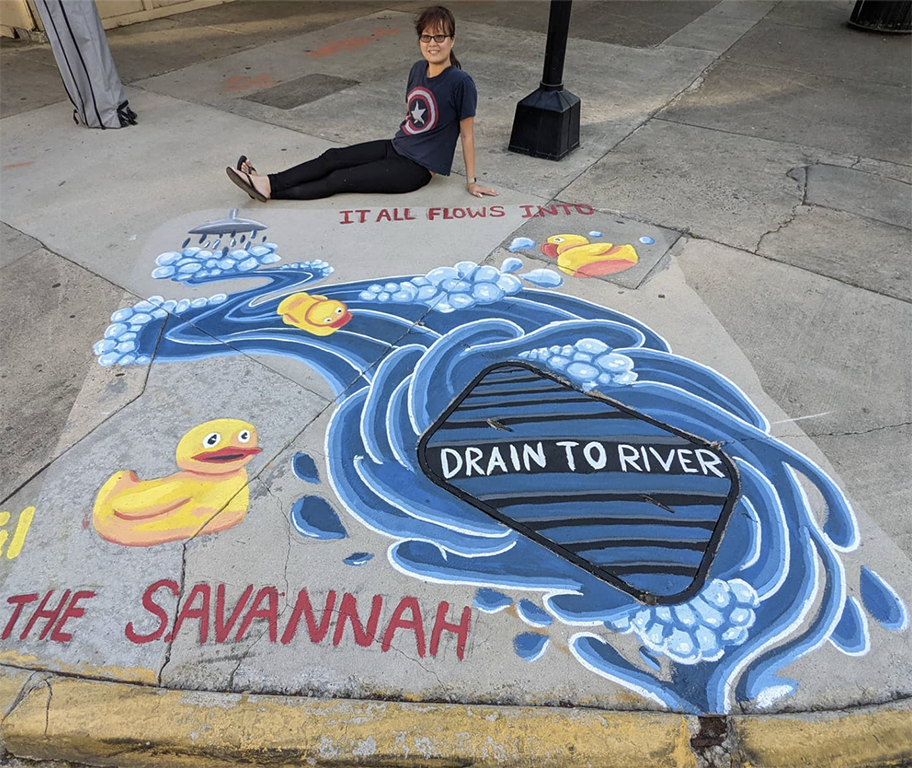 "The shower gives an idea of cleanliness," she said. "The whole purpose of the project is to keep our drains clean, so I thought that was perfect if I do a shower and a drain with the swirls."
The location of her mural is meaningful for her personally, as well. It's located near The Augusta Chronicle office, which was her first job out of college, and near the Augusta Common, where many events she attends take place.
It's also next to another public art project she painted in 2015, Swimming Colors for Art the Box, a project that decorated traffic boxes around town. Chen's mural covers all four sides of the box in blue water and goldfish swimming in an aquarium. It's an idea that also depicts clean water.
"My purpose of painting that traffic box was actually to bring awareness to clean water," she said. "I already thought about clean water and stewardship. It's funny now. I was kind of ahead of myself."
Chen said she truly enjoyed doing this art project because she learned about the importance of city beautification and collaboration with nonprofit organizations through the MPA program. This opportunity brought valuable and applicable experience for her.
Epps said her take on the storm drain theme was to highlight the ecosystem affected by water from the storm drains.
"We're trying to bring awareness to the fact that everything that goes in our storm drain goes out to the Savannah River. My take on that was to try and do something that really kind of brought attention to the critters that are impacted, that use that environment as their home, and make it something that's kind of fun and interactive," she said.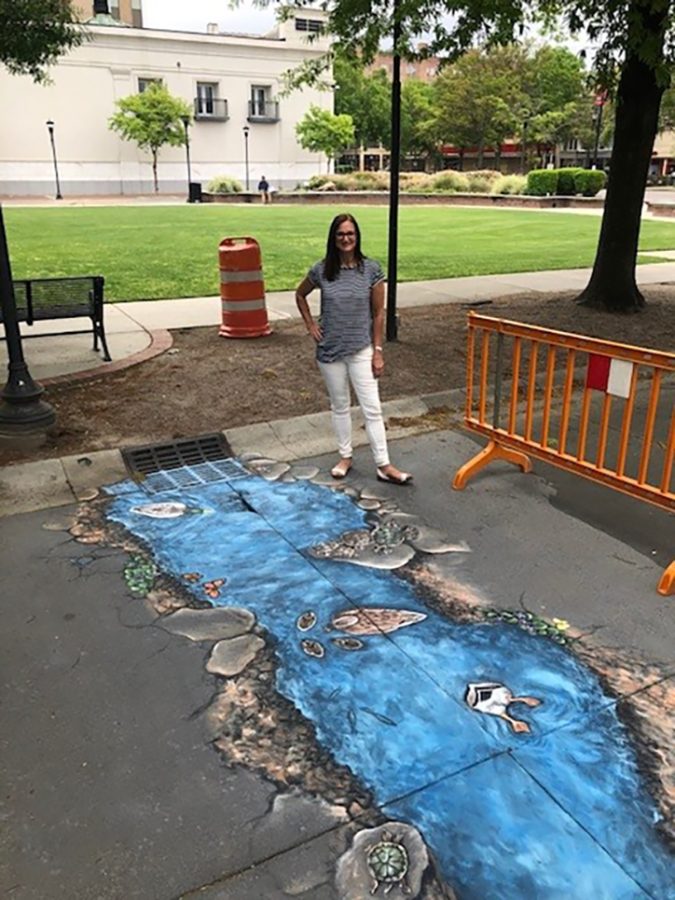 Her mural, Up the River, is located on the southwest side of the Augusta Common and depicts ducks swimming in a stream, an otter playing and butterflies flitting along the bank, where turtles sun themselves on the rocks.
This is not Epps' first public art project, either. She also painted a traffic box near the Summerville Campus that depicts the Summerville neighborhood, as well one of the murals along the walls of the Augusta Waterworks, on the corner of Wrightsboro Road and Highland Avenue. Hers is a serene scene depicting a dock with rocking chairs overlooking a lake.
"Having the opportunity to create public art is just a lot of fun," she said. "I talk about that in my art appreciation classes — just how we can have an impact on our community and make it a better place to live."