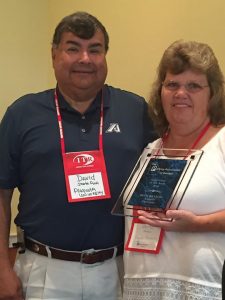 In April, Beth Bryson, parking and transportation manager in the Department of Parking and Transportation, was recognized as the 2016 Parking Supervisor of the Year by the Parking Association of Georgia.
The parking association selected Bryson as an award recipient from various organizations from around the state of Georgia, according to David Santa Ana, director of parking and transportation. The parking association presented the award at their annual conference.
Bryson has been Augusta University's parking and transportation manager since before the consolidation.
"She is the undisputed leader of the departmental staff and the institutional memory for anything involving parking and transportation," Santa Ana said. "She has an outstanding reputation around the campus for collaboration, sensitivity and honesty."
Congratulations, Beth.