Throughout her academic career, Dr. Debra van Tuyll, a professor in the Department of Communication at Augusta University, has learned the value of mentorship.
"Dr. David Sloan, who is probably the father of the current generation of journalism historians, has been an incredible mentor to me," van Tuyll said, explaining that Sloan — a professor emeritus at the University of Alabama — is the author of about 50 books on the news media and editor of The Media in America, the leading textbook of mass communication history. "He was the one who first decided I had potential as a journalism historian."
Even though van Tuyll was never Sloan's student at the University of Alabama, it didn't matter. Sloan recognized talent when he saw it.
"David was always very generous with his time, his praise and his interest," van Tuyll said. "He would introduce me to the people who could open doors for me."
To this day, Sloan still clearly admires van Tuyll's accomplishments in the field of journalism history. He recently nominated her for the prestigious 2019 Sidney Kobre Award for Lifetime Achievement.
The Kobre Award is the American Journalism Historians Association's highest honor. The national award is named after the late Dr. Sidney Kobre, who was a renowned media historian. During his career, Kobre penned 16 books on news media and served as a professor at Florida State University from the 1940s through the 1970s.
Kobre is perhaps best known for his work, The Development of American Journalism and The Development of the Colonial Newspaper, which were both published in 1944.
The impact of Dr. David Sloan
During the 38th annual AJHA Convention this past week in Dallas, van Tuyll proudly accepted the 2019 Kobre Award in front of her colleagues and fellow journalism historians.
"David Sloan is really at the heart of all this," van Tuyll said, adding that she recalls the first time she presented research on her dissertation at a conference in New Orleans several years ago.
Sloan was in the audience, and he was impressed that she went beyond the "this-is-how-'X'-newspaper-covered-'X'-event."
"While that is useful up to a point, there's only so far you can go with that," van Tuyll said, adding that Sloan explained that he appreciated her more analytical approach.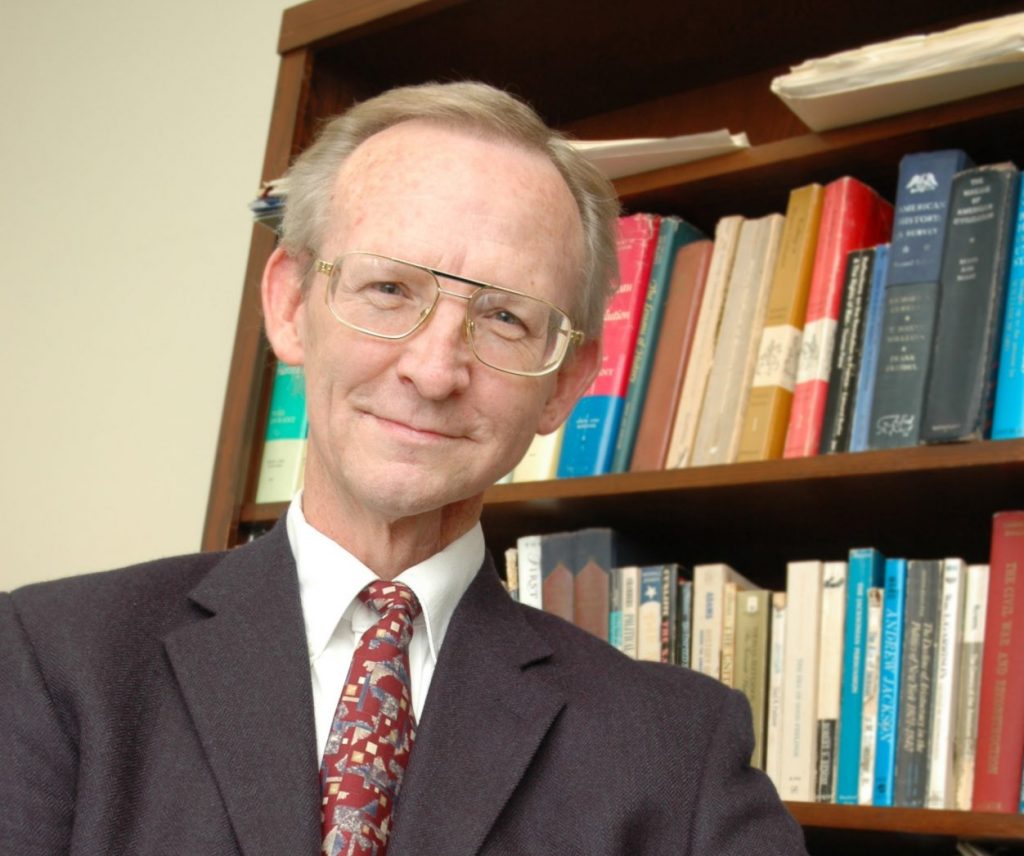 While working on her PhD from the University of South Carolina, van Tuyll had decided she wanted to take her research a step further.
"What I was really looking at was, how do newspapers function in society?" van Tuyll said, adding that she focused her research on journalism in the 19th century. "More specifically, I was studying Confederate journalism and asking the question: How did newspapers contribute to the creation of the Confederacy as a political entity? I was really looking at the political side, but I was also looking at how newspapers contributed to the downfall of the Confederacy."
Sloan was impressed that she looked beyond just how an event was covered by the press, van Tuyll said.
"David has said to me several times, that presentation was when he knew I was a historian," van Tuyll said. "And that's what got him interested in me. The fact that I was looking at a deeper question than what he was seeing most graduate students doing."
Not long after, Sloan and van Tuyll began working on projects together.
"He really started pulling me in on different projects, even though I had never been his student," van Tuyll said. "As a result, I have done a number of different chapters for books that he has published. He just took me under his wing, as if I had been one of his PhD students.
"I will always be grateful to him for that because a lot of faculty would have never done that for someone who was not one of their graduate students," van Tuyll added. "But he did. And, now, he is the one who nominated me for this award, so that means a great deal to me, too."
Inspiring future journalism historians
Dr. Thomas Mascaro, a professor at Bowling Green State University and chair of the AJHA Awards Committee, stated in an AJHA press release that van Tuyll's selection came on the heels of numerous strong recommendations.
"The range of voices celebrating and honoring the lifetime of service by Dr. van Tuyll was truly astonishing," Mascaro stated in the press release about the 2019 Kobre Award. "She was praised by very senior faculty and members of the AJHA as well as rising scholars."
The AJHA Awards Committee received 15 nominating letters praising van Tuyll's work in journalism history. One of the letters was from Maurine Beasley, a professor in the College of Journalism at the University of Maryland.
Beasley is the author of Eleanor Roosevelt and the Media: A Public Quest for Self-Fulfillment and coeditor of Taking Their Place: A Documentary History of Women and Journalism.
"I was absolutely floored that Maurine Beasley wrote a nominating letter for me," van Tuyll said. "She is the top expert on women's journalism history in America. Particularly, women who covered the White House and the first ladies. So, to have people like Maurine Beasley saying, 'She's done great work,' is very complimentary because I could never hope to live up to what Maurine Beasley has done."
Another journalism historian who recommended van Tuyll for the Kobre Award was Dr. Michael Fuhlhage, an assistant professor at Wayne State University in Detroit. Fuhlhage commended van Tuyll for opening up several opportunities and mentoring to the next generation of journalism historians.
"What I have learned from David Sloan's example is, if you see promising talent, you make opportunities happen for them. That's your obligation," van Tuyll said. "I feel like as a senior faculty – and I don't feel like senior faculty, but they tell me I am — it's my job, not just to teach students, but to help build the profession."
The AJHA Awards Committee recognized that van Tuyll has made major contributions to the field of media history, particularly in the area of transnational journalism, Mascaro stated.
"In addition to her long list of service accomplishments to the field of journalism history, Debbie (van Tuyll) has amassed an impressive record of research publications, including as author or editor of six books, 15 additional book chapters, 16 peer-reviewed journal articles, 39 refereed conference papers, and numerous invited publications," Mascaro stated. "Dr. van Tuyll exemplifies a lifetime of service to our field and is a fitting member of those we have honored with the prestigious Sidney Kobre Award."