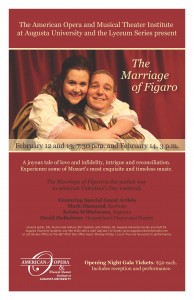 AUGUSTA, Ga.— Enjoy an evening of timeless music from Mozart as the American Opera and Musical Theatre at Augusta University presents The Marriage of Figaro. Performances will be at 7:30 p.m. Friday and Saturday, Feb. 12 and 13, with the final show at 3 p.m. Sunday, Feb. 14, in the Grover C.  Maxwell Performing Arts Theatre.
Based on the classic 18th century play Le nozze di Figaro, this four-act comic opera explores the testy relationships between the poor and the privileged.
The production features an orchestra and a cast of highly acclaimed performers, including pianist David Holkeboer, soprano Krista Wilhelmsen, and award-winning baritone Mark Diamond. Central City Opera's Kaley Smith is stage director.
Diamond, an Augusta native, will conduct a voice master class at 2 p.m. Friday, Feb. 5, in the Maxwell Theatre. This workshop is free and open to the public.
The Marriage of Figaro is presented by Augusta University's Lyceum Series in conjunction with the college's Department of Music and American Opera and Musical Theatre Institute.  Tickets are $15 for the general public, $10 for alumni and active military personnel, and $5 for all students and children. Admission into the Opening Night Gala is $50 which includes the performance as well as a reception in the university's Fine Arts Center at 5:30 p.m.
For more information, call the Maxwell Theatre Box Office at 706-667-4100.