This weekend, the American Heart Association and Augusta University will join forces in the fight against some of our nation's biggest killers: Heart disease and stroke.
On Saturday, March 5, the Augusta community will lace up their sneakers and head to the North Augusta Greeneway for the 2016 CSRA Heart Walk. Executive Vice President of Administration and Finance and Chief Business Officer Tony Wagner will speak briefly on behalf of Augusta University prior to the start of the race.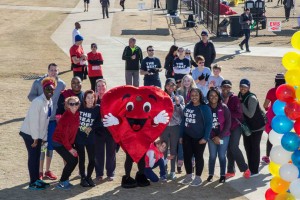 The Heart Walk is designed to promote physical activity and heart-healthy living. There are one-, three- and four-mile walking routes that are sure to get participants' blood flowing. This year, the Heart Walk will also feature a new 5K runner's route.
Leading up to the event, the Augusta University community is raising funds to give back to the American Heart Association. In 2014, the American Heart Association donated more than $7 million to Augusta University in research funding. This was the organization's eighth largest donation in the nation.
Last year's top Heart Walk fundraisers included Anthony Wagner ($3,450), Lavone Cook ($2,559), Kevin Horton ($2,000), Carrie Attaway ($1,510) and Janice Douglas ($1,505). There are several ongoing fundraising events at Augusta University for those interested in donating to the Heart Walk. The Dental College of Georgia at Augusta University is currently hosting two fundraisers: Pediatric Dentistry is selling umbrellas and the Orthodontic Department is selling sheets. Both fundraisers will end on Feb. 29. For more information about fundraising events and ways to contribute, visit the Heart Walk website.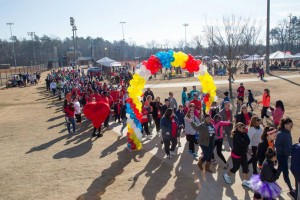 Festivities for the 2016 CSRA Heart Walk will begin at 8 a.m. and the walk will begin at 9 a.m. Participants are still eligible to register.  To register or to learn more about the event, visit the American Heart Association's Heart Walk webpage.