Augusta University has named Scott Thorp, the university's chair of the Department of Art and Design, associate vice president for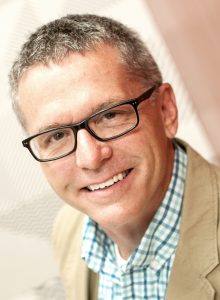 Interdisciplinary Research. His role became effective January 8, 2018.
In this part-time position, Thorp will act as an advocate for the university's research community, while keeping his current role in the Department of Art and Design. His duties will include supporting career development for undergrads and graduate students as well as developing the research infrastructure in the areas of humanities, education, business, and science on the Summerville campus, and facilitating interdisciplinary collaboration among faculty throughout AU.
"I am very pleased Professor Thorp agreed to take on the responsibilities of this important unique new role at AU; his track record of being a successful leader and facilitator demonstrates why he has been chosen to help lead interdisciplinary research efforts to the next level," said Dr. Michael Diamond, Senior Vice President for Research for Augusta University.
Prior to joining Augusta University in 2015, Thorp served ten years at the Savannah College of Art and Design as a professor and design coordinator.
He currently serves as the vice president of the Mid-American College Art Association, the programming chair of the Westobou Festival, and a member of the Greater Augusta Public Arts Advisory Panel. He is also an editor and contributing writer for ArtPulse Magazine.
Thorp earned his bachelor's degree from Georgia State University and a master's degree from the Maryland Institute College of Art.