The Georgia Chamber of Commerce recently held its regional meeting at Augusta University with about 100 professionals, faculty members and dignitaries from around the state in attendance.
Chris Clark, president and CEO of the Georgia Chamber of Commerce, was the guest speaker at the Thursday, May 26 event. The chamber's top priority is to ensure the competitiveness of businesses and people in the state.
A lot of the news on the business front continues to be good, he said.
"We have had record economic development in the state of Georgia for the last 36 months," said Clark.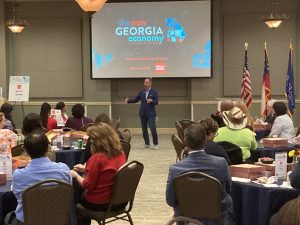 He said that in 2020, despite COVID-19, the state announced more big manufacturing headquarters and cybersecurity jobs have come to Georgia than ever before. While they didn't think it could get better, Georgia saw even more businesses take residence in 2021 and are on track to eclipse those marks in 2022.
"If you add those up, you got over 1,100 new major economic development projects and the CSRA has gotten more than your share in this part of the state," added Clark. "Those jobs are going to create $32 billion of economic investment into the state of Georgia. That's not payroll or anything else, that's just how much to build those facilities."
To keep those trends going in the right direction, the chamber talked to businesses to find out what needs to be done. Three areas were identified as priorities: building out infrastructure; fostering an innovative, inclusive economy; and winning the war for talent.
Looking into the next decade, Clark said there will be concerns in those areas, but businesses need to stay the course and be flexible.
"The big message here is this is a long-term issue and there's no silver bullet, but there's silver buckshot. You've just got to try everything out there as a business. You're going to be frustrated for a while, but you have to stick with the strategies," added Clark.
When it comes to those in the workforce, the numbers indicate there will be a shortage in the next 15 years. The future workforce will include a wide spectrum of skill level and needs, from health care workers and teachers to construction workers and more. But education will remain at a premium.
"I am a firm believer that every college student in Georgia ought to have a class in entrepreneurship, because they're all going to be an entrepreneur at some point in their career," Clark said. "We need more companies, particularly entrepreneurs, to go into our high schools and teach those kids how to be their own entrepreneurs."
This is also where Augusta University can make a difference.
Augusta University President Brooks A. Keel, PhD, was in attendance and said at the start of the chamber meeting, "Our job is to not only provide high-quality education and high-quality patient care, but to train the workforce that's going to be populating all the new Georgia jobs that will be coming along."
At the end of the meeting, attendees were given a survey so the Georgia Chamber can continue compiling data on what matters most when shaping the future of business in the state.