While TEDx has been around for a number of years and there have been events in and around the CSRA, Augusta University has never held an event. That is, until now.
With junior Vikash Ayyappan spearheading the charge, the Jaguar Student Activities Center was the site for the first TEDx Augusta University event.
For those unfamiliar, TEDx is a grassroots initiative organized by individuals who seek to uncover new ideas and share the latest research that spark conversations in their communities. It's what led Ayyappan to come up with the one AU hosted.
"We've all seen those TED Talk videos on YouTube and the influence that it has on others," said Ayyappan. "That's what I was trying to do with speakers at this event, to inspire others and have them walk out with new knowledge and information so they can spread that for other people."
To view all TEDX Augusta University videos, click the link here.
The event featured five student speakers and one faculty speaker who discussed resiliency, wellness and growth, the key to fighting burnout, personal growth journey and how to make your network "net-worth" it.
Besides Ayyappan presenting, students JoVi Douglas, Alisha Hussain, Claire Cotton and Mitchell Henson spoke on the topics, as well as Scott Wallace, PhD, associate vice president and dean of students.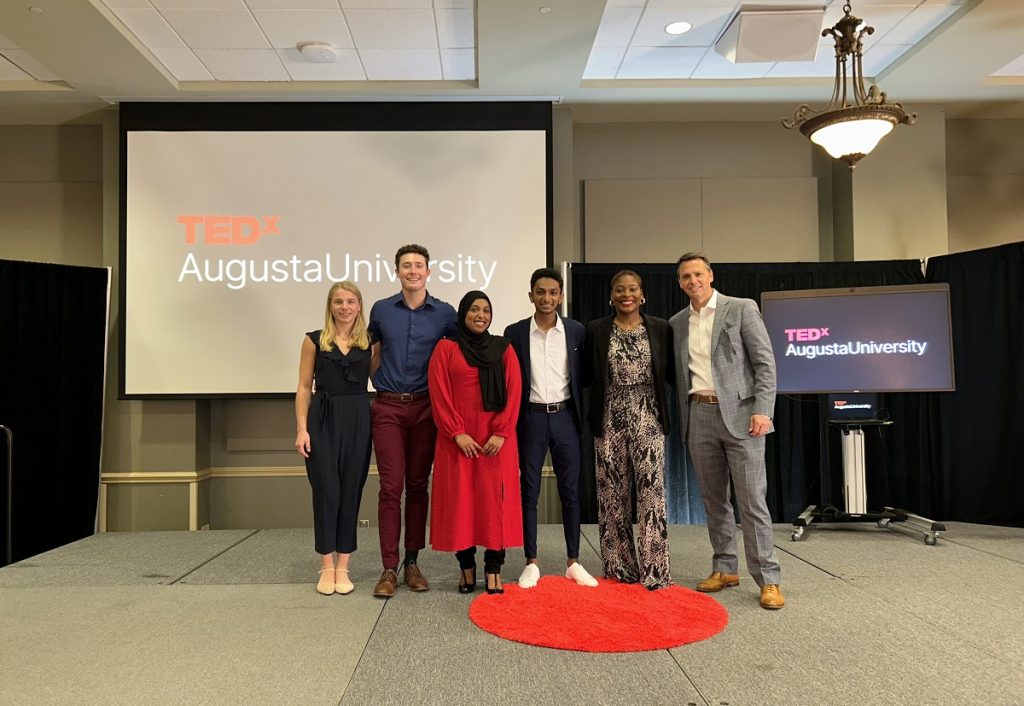 Hussain, a cell and molecular biology major in the College of Science and Mathematics, indicated events like this are important so their peers can realize they are not in struggles they may be facing.
"When students see people of their same age and that look like them or they've seen in class, and they see them presenting about the struggles they've been through that they might have also been going through, it's important to show them that you can make it," said Hussain.
She also knows it's difficult to talk about tough subjects like personal struggles, but it is important for everyone to realize they are not alone in the challenges they face.
The event has actually been a couple of years in the making as Ayyappan, a junior cell and molecular biology major, started the process as a freshman. With support of many administrators along with the Office of Student Life Engagement and the Office of Student Health Services, the pieces fell in place to host the TEDx event.
Hosting it on campus was also a point of emphasis since Augusta University had never hosted a TEDx event.
"That was a really big thing. If it was held off campus, students aren't as likely to go to it, and I really wanted it to be university focused. I felt it's really important, especially students, when you're hitting it hard in courses, it can be hard to see outside the tunnel. So I hope this is that opportunity where they can reconnect," said Ayyappan.