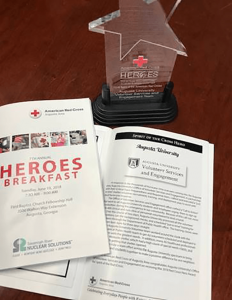 At its fifth annual Heroes Breakfast on June 19, the Augusta area chapter of the American Red Cross recognized members of Augusta University in three separate categories.
A group of video-making students from The Dental College of Georgia (DCG) received the Educator Heroes Award, Augusta University Health's Lindsay Anderegg won the Nurse Hero Award and Augusta University's Office of Volunteer Services and Engagement team won the Spirit of the Red Cross award.
The Heroes Breakfast tradition began nationwide in 1994 as a way of recognizing community heroes. Proceeds from the Breakfast benefit the American Red Cross of Augusta.
Educator Hero
Last year, a group of DCG students turned a group assignment into an internationally recognized video that teaches people how to spot signs of oral cancer. The students — Dahlia Levine, Zach Dubin, Varun Iyer, Diana Tran and newly added member Nadia Heidari — created Comprehensive Oral heal Promotion and Education (COPE) after receiving a $20,000 grant, and their second video teaches cancer patients how to protect their mouths from the side effects of radiation and chemotherapy.
Nurse Hero
On a flight back home from California, AU Health CRNA Linday Anderegg was confronted with the unthinkable when her three-week old son Wyatt went into respiratory arrest. Anderegg worked with some friends and another nurse to resuscitate her son, providing chest compressions and breathing support until the plane was able to make an emergency landing. After a few days on a ventilator, Wyatt was able to come home and is now doing great.
Spirit of the Red Cross
Tina Baggott, associate vice president for Volunteer Services and Engagement, accepted the Spirit of the Red Cross award on behalf of her team for their volunteer coordination efforts in response to the needs of evacuees fleeing Hurricane Irma. Working in partnership with the Critical Event Preparedness and Response (CEPaR) team and the local Department of Public Health, they recruited, processed, and scheduled "just in time" training for more than 400 clinical and non-clinical volunteers over the course of two days. As a result of this effort, Augusta University volunteers were able to assist in the care of 2,000 evacuees at seven shelters in the Augusta area. The effort also led to the creation of Augusta University's Medical Reserve Corps, where all Augusta University students and employees who have an interest in volunteering, have the opportunity to train and serve in our community during disasters.